Mayor Sadiq Khan approves much altered document four years after starting work on it
Sadiq Khan has formally adopted his new London Plan, more than four years after starting work on the controversial document.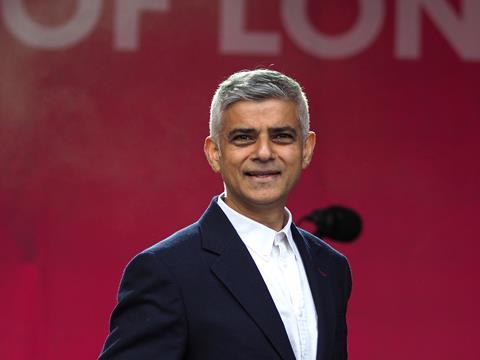 The plan is designed to implement a number of manifesto commitments made by Khan when he was elected mayor of London in 2016, including improving the capital's air quality, making London a zero-carbon city by 2030, a long-term target for 50% affordable homes in new developments, and protecting the green belt.
The plan also includes updated space and quality standards for new build homes.
The draft plan was published in November 2017 and was widely welcomed by architects as the "beginning of a renaissance" for its focus on improving the quality of new developments through the retention of architects and early design review.
The formal adoption of the plan follows more than a year of delays after inspectors forced Khan to reduce the housing numbers contained in the document after declaring them undeliverable, and then housing secretary Robert Jenrick forced a raft of further changes.
However, Khan has managed to dodge calls by planning inspectors for a review of London's green belt, viewed by many in the development industry as essential, in order to deliver the homes needed.
Khan, said: "The completely unnecessary delay in signing off my plan – which I sent to the secretary of state more than a year ago – has done real harm to confidence in key industries and among Londoners right across the capital, including the work to build more homes.
"Finally, we can now get on with doing everything in our power to increase housing delivery and addressing the appalling legacy of the previous administration."
However, Conservative London Assembly member Andrew Boff, said Khan had slowed housebuilding in London by wasting nearly three years on the plan. He said: "It took unprecedented interventions from the planning inspectors and the secretary of state to fix it.
"If the secretary of state had not stepped in, Khan's plan would have failed to deliver family homes and endangered the green belt by preventing housebuilding on large swathes of brownfield land. By pursuing his damaging proposals for so long, and failing to accept changes until now, the mayor has wasted precious time in London's race to get building."