But mayor accepts reliance on small sites is 'unrealistic' and capital's housing target must fall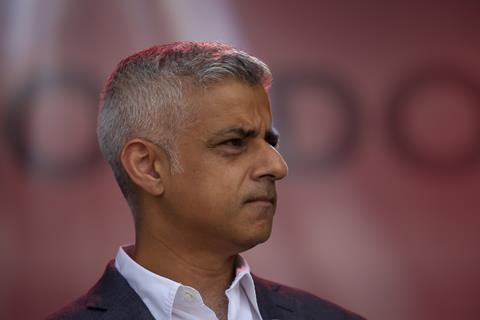 The mayor of London, Sadiq Khan, has refused to give ground on key areas of the draft London Plan, including architect retention clauses and building on the green belt.
But he accepted his 10-year housing target would have to fall by more than 100,000 because the draft plan relied "unrealistically" on the potential of small sites to provide enough land.
The 500-page new London Plan was published in draft form in November 2017 and was warmly received by architects who hailed its focus on improving the quality of new developments through the retention of architects and early design review.
The original wording of that section reads: "Securing the design team's ongoing involvement can be achieved in a number of ways, such as through a condition of planning permission, as a design reviewer, or through an architect retention clause in a legal agreement."
Government planning inspectors who scrutinised the strategic plan at a series of public hearings last year welcomed the idea of involving the original design team in monitoring design quality – but said architect retention clauses would be "overly onerous" and advised the mayor to drop any reference to them.
But Khan refused to accept this recommendation, pointing out that the use of the clauses was a suggestion rather than mandatory.
Such a view appears to be hopeful rather than in any way likely

Planning inspectors
In his response to the inspectors, published over Christmas, he wrote: "The mayor considers that it is important to retain the reference to the use of architect retention clauses in Policy D2 … as a way to ensure that the design quality of development is retained through to completion."
It is a common complaint within the profession that the quality of projects suffers when the often high-profile concept architect is replaced with a delivery practice after consent is secured.
Peter Barbalov, a partner at Farrells, welcomed the news, saying: "The decision to keep the architect retention clauses in the London Plan shows the mayor's commitment to ensuring design quality and continuity as well as responsibility. Although difficult to enforce, it shows the desire to improve the built environment and limits the dilution of design quality. The passing of design [oversight] potentially denies ownership and responsibility of the project to the original architect."
Khan has also refused to bow to the inspectors' view that harmful development should be allowed on the green belt in "very special circumstances" in order to deliver housing and industry that won't fit within London's bounds.
They argued: "From the evidence we heard, the inescapable conclusion is that if London's development needs are to be met in future then a review of the green belt should be undertaken to at least establish any potential for sustainable development."
But Khan defended his protection of the green belt for both environmental reasons and to help prevent urban sprawl. He said the policy would drive the re-use and intensification of brownfield land "to ensure the city makes efficient use of its infrastructure, and that inner urban areas benefit from regeneration and investment".
However Khan was forced to make a major concession on housing – and agreed to his targets being branded unrealistic and revised downwards, from 65,000 homes a year to 52,000.
The inspectors blamed Khan's reliance on the availability of plentiful "small sites" for missing, "by some margin, the identified annual need for housing of 66,000 units", a figure which ministers had already criticised as too low.
The failing was so serious, in their view, that they considered condemning the plan as unsound, only deciding against this to avoid causing "considerable delay" and uncertainty.
They said: "To put this in context the [plan's borough-by-borough targets] amount to an increase in small site delivery of over 250% in outer London boroughs. At its most extreme the target for Bexley is almost 700% higher. Furthermore in Sutton, for example, 79% of the overall target is attributed to small sites. Across London as a whole, historic completions from this source between 2003 and 2017 have averaged 15,300 per annum compared to the new target of 24,500. The targets therefore require a massive 'uplift' in delivery especially in outer London which is highly unlikely to occur based on the available evidence."
They add: "The presumption in favour of small housing developments of between one and 25 homes and the borough targets … are neither justified nor deliverable."
They acknowledged that Khan intended the small sites policy "to re-shape attitudes" because "by always looking backwards nothing would change", but noted there was "little first-hand evidence of an appetite to implement these changes and so such a view appears to be hopeful rather than in any way likely".
Small site developer Solidspace tweeted in response:
A hit for #smallsites as targets deemed undeliverable. We know land release is a major issue that slows delivery on small sites to allow more SMEs to develop high quality housing. It is vital that mechanisms are put in place to unlock these opportunities. https://t.co/WbF4S3DDLf

— Solidspace (@SolidspaceHomes) January 16, 2020
Khan sent the revised draft plan to housing and communities secretary Robert Jenrick with his reasoning for not accepting 15 of the inspectors' 65 recommendations.
In an accompanying letter he wrote: "My draft plan included housing targets for 650,000 homes over the 10 years from 2019-29. You will know that one of the inspectors' key recommendations was to reduce that figure based on their view of the deliverability and appropriateness of the plan's small sites targets.
"I have accepted this recommendation… However I want to make it clear that I am absolutely committed to delivering more of the homes that Londoners need and this will include making much greater use of small sites across the capital as well as bringing new players into the market.
"The revised housing target remains ambitious and represents a step-change from that set out in the current London Plan, so it is in all our interests to get the new plan adopted as soon as possible."
The final London Plan is scheduled to be published in March, after central government and the London Assembly have had time to scrutinise the revisions.