Staff will be able to move around the tower without ever touching a communal surface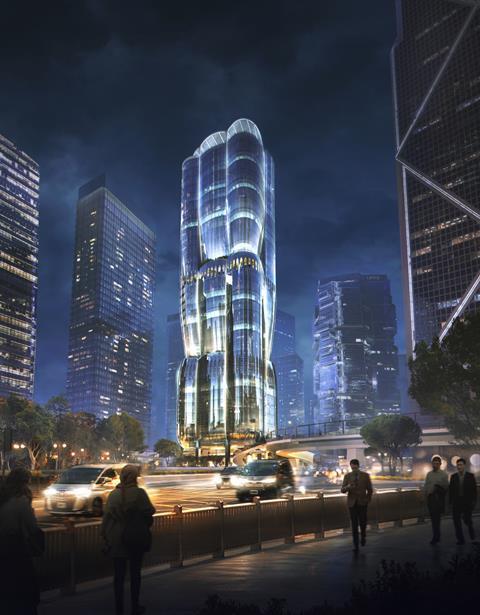 Zaha Hadid Architects has revealed a covid-friendly design for its 36-storey tower in the heart of Hong Kong's financial district, next to Fosters' landmark HSBC building.
Staff at 2 Murray Road, an office building for developer Henderson Land, will be able to commute from the street to their desk while avoiding all contact with communal surfaces, said the practice.
Using a mobile phone, contactless card or biometric recognition, the tower's occupants will pass through security, gain access to lounge areas and control the AI-assisted lifts without risking the spread of covid-19 or other viruses.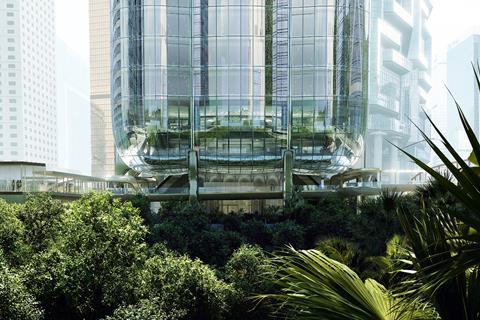 The building - which started on site last year - is intended to resemble a bud of a Bauhinia, the flower which features on Hong Kong's flag, as it is about to blossom.
Replacing a multi-storey car park next to the city's Chater Garden, the tower will be directly adjacent to Foster & Partners' landmark 1985 HSBC building and IM Pei & Partners' Bank of China Tower. Some reports described the site as the most expensive piece of real estate in the world.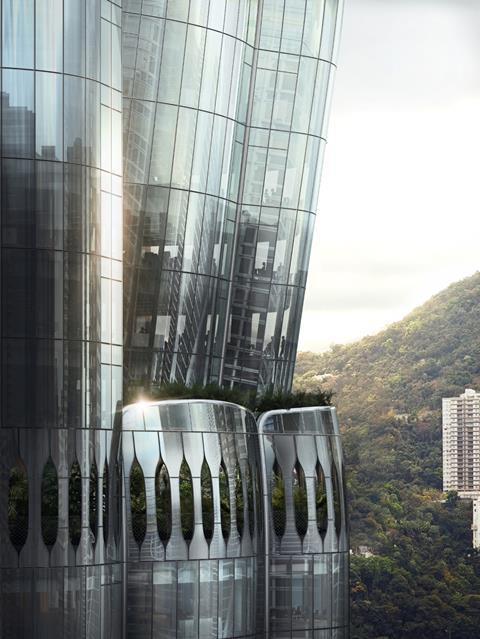 It will be located at a key junction of the city's network of elevated pedestrian walkways, which will connect to a second floor public lobby above a double-height foyer on its ground level.
At the other end of the tower, there will be an outdoor "sky garden" with a running track and an aquaponics planting network, along with a banqueting hall for public and corporate events offering panoramic views of the city's skyline.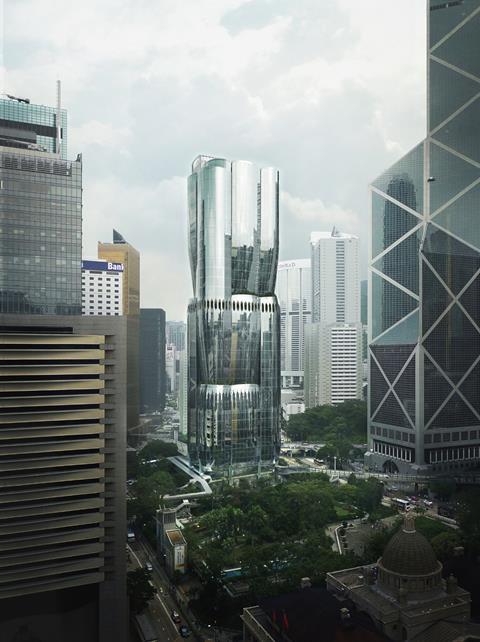 The tower also features an array of advanced management systems which the architect says will reduce the building's electricity demand by 26%.
Data from two weather stations installed at street and roof level will feed into an automated ventilation system which will detect occupancy levels in the tower's interior spaces and automatically adjust air temperature, humidity and fresh air volume to meet demand.
The system will learn to predict daily occupance trends to optimise energy demand, while daylight sensors will reduce artificial lighting if natural light levels outside are sufficiently high.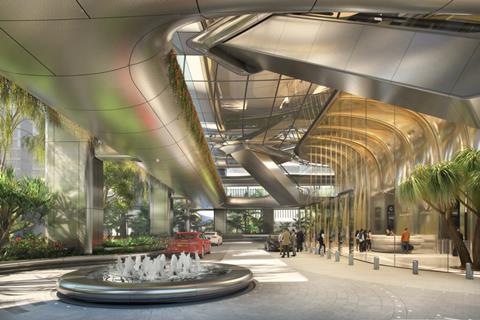 The tower will be the practice's second project in the city, after the 2014 completion of the 15-storey Jockey Club Innovation Tower for the Hong Kong Polytechnic University.