In pics: The winning entry plus the architects beaten by ZHA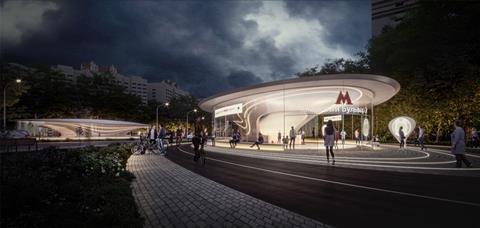 Zaha Hadid Architects has been declared one of two winners in a competition to design metro stations in Moscow.
A team led by ZHA triumphed over an all-Russian shortlist for the station provisionally named Klenoviy Bulvar 2 in the capital's south-east.
Meanwhile Architects of Invention, a small Anglo-Georgian practice, lost out to a Russian firm, Asadov, in the contest for the second station, Prospekt Marshala Zhukova, in the north-west.
Two shortlists of five teams were announced for the two stations in June, with most of the finalists Russian.
ZHA's winning entry for Klenoviy Bulvar 2
ZHA's winning entry was worked up in collaboration with RLB and Arup Lighting, Moscow-based Metropolis Group and A-project, part of Russian contracting giant Krost, and Milan's Systematica.
2nd: KPLN
The jury included several Russian architects, Moscow's chief architect, Sergei Kuznetsov, and the city's deputy mayor.
In a statement they said: "Zaha Hadid Architects offers a next-gen look for the Klenovy Bulvar 2 station, with special design methods that impact the passengers' perception of the station in unprecedented ways.
3rd: Blank Architects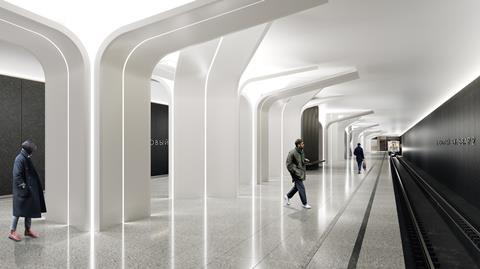 "Elegant, weightless, transparent, full of light, and clean lines – the station will provide comfort and reduce the stress associated with living in a metropolis.
4th place: Vozdukh
"Lighting is one of the project's essential elements: the dynamic system of regulating the light's tint will help announce an incoming train. A bright space with tall ceilings and smooth pillars, designed to look like arrow heads and blending into trails of light to reflect three-dimensional motion, allow for the station to be kept well-lit and visually indicates the platform edge."
5th place: ABTB
Moscow's metro is one of the most intensely used undergrounds in the world with more than 2.5 billion trips made annually.
Prospekt Marshala Zhukova - winning entry and the British finalist