Housing minister promises 'generational' changes to planning system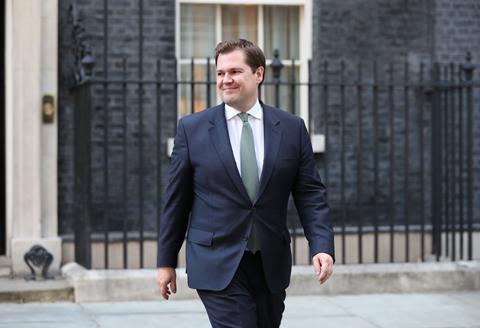 Developers who try to get poor-quality schemes through planning will find the door shut in their face under a major overhaul of the system, the new housing secretary has warned.
Robert Jenrick promised systemic changes to what he branded Britain's "broken" planning system, through a series of measures including local versions of a new national design code and a planning white paper.
Design and community involvement would be at the heart of the process, he said.
The paper, being finalised "in the coming weeks" and based on last year's Letwin Review, would set out plans to radically reform the "exceptionally complex and convoluted planning system" that has developed over 75 years since the post-war planning act, said Jenrick. He said he still welcomed ideas and views ahead of its publication later this year.
"I would like that document to be a very significant step forward to make the planning system work for three [groups]: for consumers who interact with the planning system; for small builders of which we need far more; and then for large developers who play such a critical role in getting communities built, particularly major changes like new towns and villages which we want to see built, but built in the right way," he said.
The legislation would work in tandem with the new National Design Guide which Jenrick announced at the Stirling Prize ceremony this month and which drew a lukewarm reception from the profession.
Its final part, a model design code, is due to be issued in the new year. Every local planning authority will be expected to create its own code based on the national model but taking in local traditions and views. Local people would have a legal right to demand these standards, he said.
Jenrick promised mentoring and guidance for planning departments that struggle to draw up their own codes – and hinted that they might also need to train councillors as "some take design much more seriously than others".
The minister said: "We will be trying to follow that process through, ensuring all new developments actually adhere to that code and that design is then placed at the absolute heart of decisions."
He vowed to apply the same test to schemes that cross his desk as a result of planning inquiries.
"We will have to consider whether there are decisions that need to be made to demonstrate that design now matters in this country and that developers who are bringing forward poor-quality designs are going to have to change their practices," he said.
It was a "generational struggle" requiring everyone to play their part, he said, adding: "It will be a completely systemic change that will take a long time to embed."
Jenrick, speaking at an event run by Policy Exchange and Create Streets, also committed to "taking forward the recommendations" of the Building Better, Building Beautiful Commission which was established by his predecessor and which is due to publish its final report before Christmas.
Quizzed about how all this was possible when the government was also extending permitted development rights, he admitted it "may seem at times contradictory" and that some office-to-resi conversions had been poor quality. The ministry was reviewing how to reconcile this with giving developers certainty and delivering thousands of homes, he said.
Stuart Lipton, the developer behind Broadgate and 22 Bishopsgate, called Jenrick's vision "a revolution" but questioned the government's commitment when housing ministers are replaced so frequently.
Finn Williams, co-founder of Public Practice, said: "What's encouraging is the continuity of the messaging despite the chopping and changing of ministers. When a secretary of state is committing to design quality that's great. But the question is can they make it happen?
"It's all very well to say local authorities can create design codes but so many don't have that skill in-house so it will default to consultants who – though they may have the skill – may not be well placed to steward and maintain the code. You need to embed that expertise."