Studio E project lead says insulation manufacturer 'calculatedly sought to deceive' with marketing material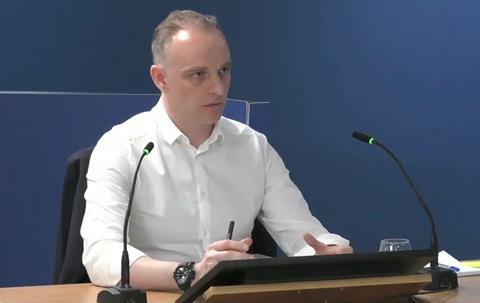 Studio E Architects' project lead for the Grenfell Tower refurbishment said claims made about the insulation product used for the block's tragic refurbishment were as misleading as those in 2013's horsemeat scandal.
Neil Crawford, who is not a part III-qualified architect, took over day-to-day responsibility for co-ordinating his practice's work on the high-rise block in 2014. He told Monday's hearing of the inquiry into the fatal 2017 fire that the literature he had read on Celotex RS5000 led him to believe it was suitable for use on high-rise buildings.
Studio E did not specify the product's use as part of the aluminium composite material (ACM) cladding used for the tower's refurbishment. It had been substituted for a different Celotex product – FR5000 – originally proposed by consultant Max Fordham. In fact, neither product was compliant with Building Regulations.
Quizzed about his understanding of the suitability of Celotex RS5000 for the tower, Crawford said product literature for the insulation – made by Saint-Gobain Construction Products – led him to believe it was safe for buildings of 18m in height or taller.
The introduction page of the product brochure, shown to the Grenfell Tower Inquiry, said three times that Celotex RS5000 was suitable for use on high-rise buildings; that it had Class 0 fire performance; met criteria set out in BR135 and had been tested to BS8414.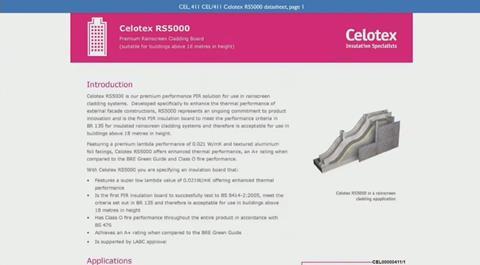 Crawford said the "the totality of what was written" in the document made him understand that it "was compliant" for use as part of the Grenfell Tower refurbishment plans.
He angrily referred to evidence submitted to the inquiry by product manufacturers that appeared to suggest an understanding that their products were not safe for use on high-rise buildings.
"To be blunt about it, we've obviously seen the recent emails in terms of the internal correspondence within Celotex and clearly they sought to deceive, based on the understanding that an average architect would have with the way they've worded this document," he said.
"To me that's apparent by that reference to BS476 and the way it cross-references with limited combustibility. It's deliberately misleading; it's masquerading horsemeat as a beef lasagne, and people bought it."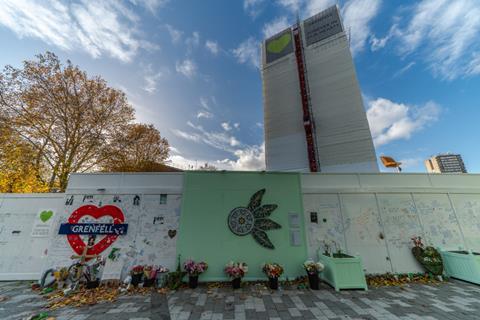 Crawford, who worked for Foster & Partners before Studio E, told the hearing he had not been aware that Celotex's claims related to a BR135 fire test and were not a general "OK". A rider for the claims would require a cladding system to use a combination of exactly the same products that had passed the test.
He told the hearing that most architects would not have the "technical ability" to analyse all of the ways that products could be compliant with Building Regulations.
"It's a highly specialist and technical set of information; it also doesn't help when it's misrepresented," he said.
"My first port of call was to send it to the higher authority – the fire specialist – and ask them."
A major focus of the inquiry's evidence-gathering in recent days has been the extent to which project fire specialist Exova was probing Studio E's proposals to overclad 24-storey Grenfell Tower, rather than more complex areas of the project – such as repurposing the block's podium level to include new homes.
The first phase of the Grenfell Inquiry found that the use of a cladding system of which Celotex RS5000 was a component was a key enabler of the rapid spread of fire on 14 June 2017.
On Monday, Crawford was repeatedly asked when and how he was reassured the proposals to overclad the tower block were compliant with Building Regulations after he joined the project in 2014, taking over day-to-day responsibility from Studio E's lead architect Bruce Sounes.
The most recent Exova fire safety report on the project when Crawford took over as Studio E lead-coordinator made scant reference to overcladding.
Inquiry chair Martin Moore-Bick asked Crawford whether he would have expected Exova to make a reference to cladding if they had it "in mind".
Crawford responded that the report mentioned Approved Document B part B4, which relates to the external spread of fire.
Although overcladding was not mentioned in the Exova report's overview, it was referred to subsequently.
"It is considered that the proposed changes will have no adverse effect on the building in relation to external fire spread but this will be confirmed by an analysis in a future edition of this report," the document said.
However later in the hearing Crawford accepted that the "no impact" prognosis was never confirmed by any subsequent Exova report.
The inquiry continues.