Studio E's Grenfell project lead denies being 'less than transparent' over fire strategy details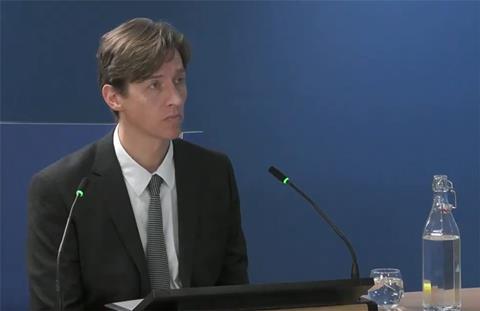 Studio E's project lead denied being "less than transparent" with Grenfell's proposed fire strategy when he returned to the inquiry yesterday.
Bruce Sounes was shown an email he wrote in 2014 suggesting certain information should not be shown to London Fire Brigade (LFB).
While being questioned in detail about this he responded with feeling: "It's not my role as an architect to be devious."
Sounes is the second most senior member of Studio E to be called before the Grenfell Inquiry. His evidence last week was cut short when he was taken ill. No details of his health have been given but he returned to the inquiry yesterday afternoon. His questioning is expected to last at least another full day.
Inquiry barrister Kate Grange showed him an April 2014 email from Claire Williams of Grenfell's tenant management organisation (TMO), the client on the refurbishment, asking him to resend the fire strategy.
She wrote of a meeting she had had with the fire brigade: "I want to get our fire strategy on to their radar, particularly in terms of understanding any issues they may have over the smoke venting system to the lobbies".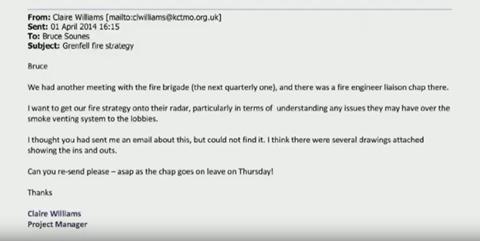 Sounes replied the following day: "Attached is Exova's fire strategy and RBKC's mark-up of our fire strategy plan. I would not show this [the mark-up, he clarified in evidence] to the LFB. They are likely to support the severe interpretation of the regulations which Exova believe are unnecessary because this is in an existing building."
Grange asked him: "Why didn't you want the mark-up by building control to be shown to the fire brigade?"
Sounes replied: "The mark-up highlighted requirements for fireproofing the risers off the central lobby which we hadn't had a chance to discuss with RBKC but which I thought could pose a problem for the new services."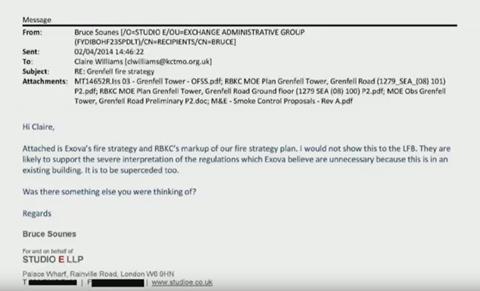 Sounes agreed with Grange's assertion that there were not many chances to speak to the fire brigade so he wanted to be clear exactly what proposal they were showing.
Grange then asked if his action was "less than transparent". Sounes replied: "No, not at all. The services strategy was still not clearly resolved. The fire strategy, the plans were still evolving. I thought it was best to be sure of what we were proposing before it went to the fire brigade."
Grange responded: "It was your view that it was in the client's best interests to try and go through the building control process without too many issues being raised by building control?"
He retorted: "It's not my role as an architect to be devious. I'm sorry."
Later he was asked why he thought Celotex FR5000 was a suitable insulation material to be used for the overcladding system.
Sounes replied: "It had been put forward by Max Fordham who I understood had undertaken this sort of project many times and I guess I made the assumption they had used this before."
He added: "I had no reason to believe it wasn't [suitable] is probably more accurate."
He agreed he thought that it wasn't hazardous because its combustibility performance was given as Class 0.
He could not recall reading the Celotex datasheets but said he had used the product "over many years" – albeit not on high-rise residential buildings – and recalled being told in the late 1990s by a product rep that the material charred when subjected to flame.
The inquiry continues.