Leading architects take swipes at each other after Building Design reveals controversial proposals
A storm has erupted over the RIBA's plans to introduce mandatory revalidation for all its members every five years.
The row has seen professors and candidates in last month's presidential election taking issue with each other and the current and former presidents weighing in to defend the institute.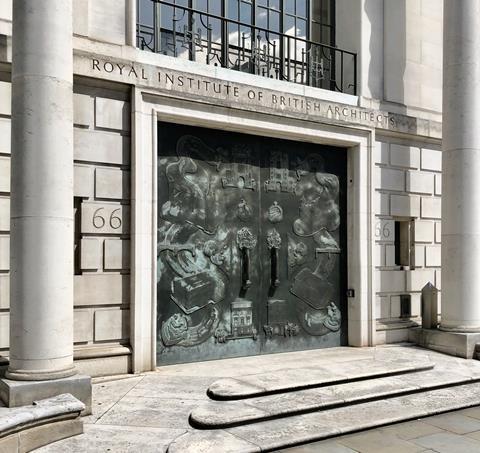 A stream of architects vented their fury on social media after Building Design reported proposals – approved by RIBA's governing Council – to test architects' competence in four core areas, starting next year with health and life safety, which includes fire safety.
The testing will be done through CPDs and, although the new rules will only apply to RIBA members, the Arb is also in the middle of a review which will apply to all architects. Both are under pressure from government after the Grenfell fire and other disasters.
Several architects threatened to revoke their membership, accusing the RIBA of adding extra burdens to under-pressure practices. Stefanie Stead, director of Stead & Co, was one of those arguing that lost earnings while revising for exams would force small practices to raise their fees, sending clients into the arms of cheaper, unqualified plan draughters.
Paul Testa, of Sheffield-based Paul Testa Architecture, wrote: "Coming from the RIBA makes little sense… They aren't a regulatory body, rather an optional club. My worry, as a business owner, is it will likely increase our costs making us either less profitable or more expensive. I see the need, but I'm concerned about the detail."
Some argued that other professions such as medicine require regular reaccreditation. Ben Stephens, director of Paste Architects, retorted: "It's others in the construction industry that need competence tests."
Ben Channon, an architect, TEDx speaker and mental health champion who works at Assael, wrote: "In an industry that already contains so many barriers to entry, I'm not personally convinced that RIBA's proposals for further exams and study are the way to encourage more people into the industry and encourage a diverse profession."
His tweet unleashed a flurry of responses. Among them was Valeria Passetti, the Nottingham-based architect who contested last month's presidential election won by Simon Allford.
In a series of tweets she argued the proposals would increase the burden on architects when they were already struggling in the face of a pandemic and Brexit. She said this would not help the profession's attempts to diversify itself and would do little to improve the built environment when less than 10% of housing is designed by architects. Several architects including Vinesh Pomal of Tate Hindle complained there had been a failure of communication by the RIBA and Passetti said despite being the institute's vice president for membership (nations and regions) neither she nor her committees had been part of the consultations.
I am stunned by the replies in this thread. You would expect a doctor to be regularly tested for competency so why on earth not an architect - who has just as much responsibility if not more in terms of healthy, safe buildings and people. The arrogance shown here is surprising.

— Prof Fionn Stevenson (@fionnstevenson) August 30, 2020
Fionn Stevenson, a professor at Sheffield School of Architecture, tweeted angrily she was "stunned" by some of the replies and added: "If you think basic competency testing is 'red tape' - we have a problem."
Paste Architects rejected the charge of arrogance, asking: "The comparison between doctors and architects is totally different - do doctors go out to find work? Do they do fee proposals? do their own accounts? They have a steady income and their job is more towards patient care which is a different risk."
If you think basic competency testing is 'red tape' - we have a problem. Let's sort it out rather than reject it. Long overdue. Too many incompetent architects around - sorry, I have seen it face to face through countless POE studies. Let's deal with the elephant in the room.

— Prof Fionn Stevenson (@fionnstevenson) August 30, 2020
Former RIBA president Ben Derbyshire backed her up, writing: "Yup, baffling Ostrich-like response to testing architects. RIBA members are already required to comply with mandatory online CPD recording. Testing of a small, critical part of the curriculum adds no additional burden and reassures the public as to competence in the profession." He described the proposals as "tough love" from RIBA and Arb and revealed that as president he had received a letter threatening legal action from members perceiving a threat to their livelihood.
Russell Curtis, co-founder of RCKa and former RIBA Council member, wrote: "I find it extraordinary how many architects expect protection of function but not the competency checks that come with it. It's clear that the much of the profession is both woefully inadequate and hugely self-entitled."
Unfortunately, some #architects do not follow regs or guidance and people suffer. I know this from countless POE studies I have undertaken revealing design not fit for purpose re: inclusive design, moisture movement, maintenance, access, lighting levels, usability etc.etc

— Prof Fionn Stevenson (@fionnstevenson) August 31, 2020
Sumita Singha, one of Passetti's rivals in the election, rejected the notion that the proposals would pose a barrier to diversity, writing: "I can't understand the issue with diversity and inclusion in checking for professional competency. If competency excluded women and BAME in the professions, then we wouldn't see female and BAME doctors, surveyors, etc. If anything, many women and BAME tend to be overqualified."
Jake Attwood-Harris, sustainable design advisor at Hawkins Brown wrote: "Maybe if we did more to prove our competency we would be able to demand the kinds of salaries that even junior engineers or cost consultants get? I think its the image of architect as just in charge of aesthetics that does us the most damage."
Current RIBA president Alan Jones responded to several of the protestors. To Channon he wrote: "You all know I stand for #opportunityforall. A poorly paid, long hours profession does not attract or retain many - of all backgrounds, so being recognised as expert, being paid accordingly; & there is RIBA support & will be more; eg #studyarchitecturewell out shortly etc."
Do we chartered architects wish to be the "doctors & dentists" of the construction industry & be educated, skilled & paid accordingly or not? Competency+regulation yes, but Gov must sort out procurement, raise fees & increase funding for educating #futurearchitects. #thewayahead https://t.co/6ZdvkTSBSU

— Alan Jones-Architect PRIBA (@AlanJonesFRIBA) September 1, 2020