Museum to move from Powell & Moya citadel into old West Smithfield market buildings
The City of London Corporation has approved £337m plans to move the Museum of London from Powell & Moya's brutalist citadel into the crumbling market buildings at West Smithfield.
The scheme has been drawn up by Stanton Williams and Asif Khan working with specialist conservation architect Julian Harrap. The practices have spent four years working on the detailed plans.
Paul Williams, principal director of Stanton Williams, described today's decision as a "pivotal milestone" both for the project and for the role of culture and education in London's resilience.
Khan said it was a great responsibility to be designing a museum at a time when, thanks to the Back Lives Matter movement, fundamental questions were being asked about the telling of history.
Announced in 2015, it is one of the biggest cultural projects happening anywhere in Europe, said Sharon Ament, the museum's director, adding that the aim is to open in 2024.
The site includes the General Market, Poultry Market and a number of buildings known as the Annexe, which includes the Fish Market, Red House and Engine House. Listed building consent was also granted for the grade II-listed Poultry Market.
Ament said the consent secured the future of the historic market buildings, most of which date back to the Victorian era and have fallen into disrepair.
Much of the historic fabric of the buildings will be preserved to create what she described as cavernous and atmospheric spaces above and below ground
The future of the museum's current home, designed by Powell & Moya and completed in 1976, is far less secure. It has been earmarked to be replaced by Diller Scofidio & Renfro's £288m London Centre for Music and was given a five-year Certificate of Immunity from Listing last year.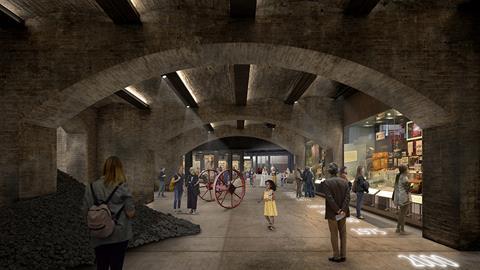 Ament said: "We are over the moon with today's decision, which takes us one giant step closer to achieving our vision and moving forward with this ambitious, once-in-a-generation opportunity.
"The museum will be so much more than what you see today at our existing site. This is all because the market buildings themselves enable us to create a set of galleries, show spaces, meeting rooms, exhibitions, places to eat, to learn, to meet friends, to work, to delve into London's past, present and even to imagine possible futures.
"We will open these extraordinary buildings bringing them back into public use, at a time when Londoners are yearning to better understand who we are and how our city has developed."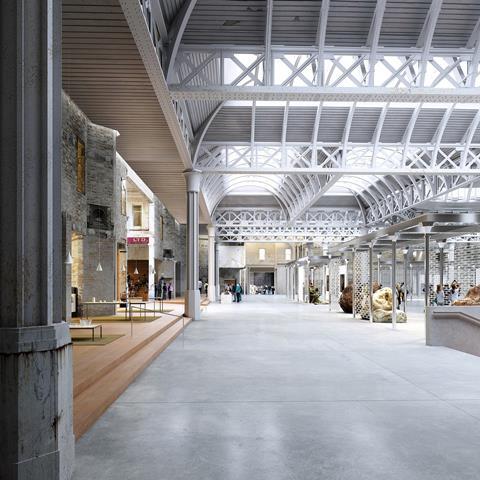 Asif Khan said: "In front of the Museum of London Docklands stood a statue of slaver Robert Milligan. Just over a week ago it was removed. The recent protests across the globe for equality and respect of black lives have called into question how we are taught our history and how then we understand our present.
"It feels we are finally at a turning point, and to design a new museum at this moment, particularly one inside a Victorian market hall, is a great responsibility. It demands from us a vision of how we should shape our future city and citizenry."
Paul Williams said: "This is a pivotal milestone not just for an ambitious architectural scheme for London, but also a testament to the vital importance that culture and education play for the evolution and resilience of our global city.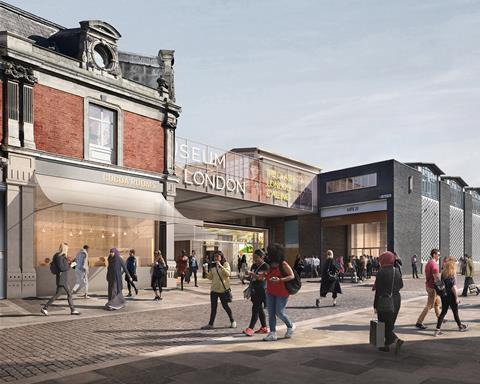 "Because London's story is a story of renewal, reinvention and cultural diversity – a story that will be actively told by the Museum of London from its new home at West Smithfield for generations to come.
"Completing Culture Mile, the new museum will actively engage with its surroundings and communities and will bring new vibrancy to a historic, yet deteriorating part of the City. The Market Buildings, once a place for trading goods will become places for trading ideas; a democratic and inclusive arena for public life, performance, installation and debate, capturing the many voices of 21st-century London."