New immunity certificate offers five-year window for Diller Scofidio & Renfro concert hall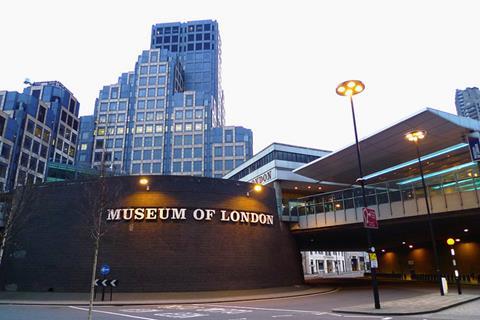 Plans to relocate the Museum of London to a new home and replace the Philip Powell and Hidalgo Moya-designed building with a new concert hall have received a boost after the current buildings were granted immunity from listing.
The Certificate of Immunity from Listing (CoI) was confirmed shortly after a round of pre-application consultation on Stanton Williams, Asif Khan and Julian Harrap's £332m plans to convert derelict market buildings at West Smithfield into a new base for the attraction.
Informed by advice from government heritage advisor Historic England, the Department for Digital, Culture, Media and Sport's CoI decision grants a renewed five-year window in which Powell and Moya's building can be demolished without fear of spot listing.
Earlier this year Diller Scofidio & Renfro floated its proposals to redevelop the museum site with a £288m "world class" concert hall that would be a new home for the London Symphony Orchestra.
DS&R was appointed to the London Centre for Music job in 2017, beating rival bid teams including Foster & Partners, Amanda Levete, Frank Gehry and Renzo Piano.
The project team for the proposed new Museum of London is due to submit a planning application for the West Smithfield proposals later this year, but still needs to raise £44m towards the project cost. The Centre for Music proposals are at an earlier stage.
Campaign group the 20th Century Society said it had not sought to obtain listed status for the Museum of London building and neighbouring block Bastion House. However it did call on the City of London to include the buildings in its new Barbican conservation area.
C20 Society caseworker Grace Etheridge said the museum and Bastion House had been granted CoIs in 2015 and it was seen as "extremely unlikely" that the previous recommendation would be overturned if substantial new evidence was not discovered.
"In 2015 we didn't object to the issuing of a CoI for the museum as we thought it had suffered too much alteration to meet the criteria for listing," she said.
"We stated that Bastion House held architectural and historic significance. However our comments were neutral so we neither objected to the CoI nor explicitly stated that we thought it met the criteria for listing."
In July, the project team for the new Museum of London said it was targeting a 2024 completion for the West Smithfield project, meaning Powell and Moya's building – which opened in 1976 – would never reach its 50th birthday.