'We have punched EU architects in the face', adds MP Ed Vaizey
A former architecture minister has warned the profession to brace itself for a no-deal Brexit as an increasing number of wider industry figures voice alarm about the UK leaving the EU without an agreement in place.
Ed Vaizey – who tasked Terry Farrell with carrying out a review of architecture during his six-year term as culture minister – told BD firms were right to be worried about crashing out of the EU without a deal at the end of March.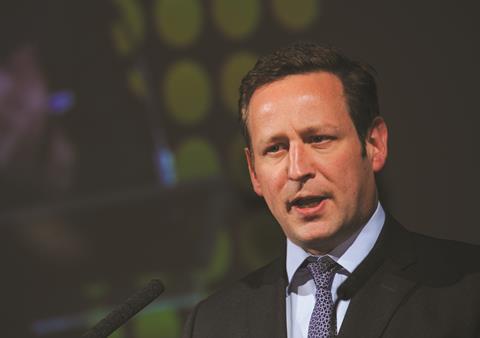 "Everyone should be worried and be prepared if they can - and speak out and say why they oppose no deal," he said.
"It's completely insane. It's driven by ideological fanatics who refuse to compromise for the sake of people who need to get on with their lives."
Vaizey backed last week's Brexit deal put forward by prime minister Theresa May but which MPs rejected by a majority of 230.
He said: "We have a world-wide reputation for world-class architecture built on global firms based in London that are able to import talent from all over the world - people who want to come and live in London because it's so exciting. They come here, pay taxes and contribute to our exports - and we have punched them in the face."
He said Theresa May's "citizens of the world" label was ridiculous and insulting to people worrying about their immigration status despite being settled in the UK.
Max Farrell, son of Terry Farrell and a director of Farrells Architects, said 50% of their staff were foreign nationals and they were worried about what the future held.
Richard Rogers, Amanda Levete, David Chipperfield and Norman Foster have all previously voiced their concerns, along with the RIBA.
Vaizey added: "It's essential we leave with a deal. We need to be able to import materials and labour with minimum fuss. We have had a certain environment over the last 30 years that will suddenly change."
He also warned that worthy initiatives like the Letwin Review into planning reform and build-out rates were falling victim to Brexit because ministers' attention was so diverted.
"Brexit has absorbed so much it's hard to make any progress," he said.
A report by Arcadis in 2017 said up to 200,000 EU construction workers could leave the UK by next year, depending on the type of Brexit the UK ends up with, prompting the consultant's director of workforce planning, James Bryce, to warn: "[This is] not a skills gap. It is a skills gulf."
Vaizey's comments come ahead of the industry's emergency summit on Brexit on Monday.
MPs are next due to vote on the prime minister's revised Brexit deal this coming Tuesday.