Findings of survey by developer Grosvenor echo Building Beautiful commission's recommendations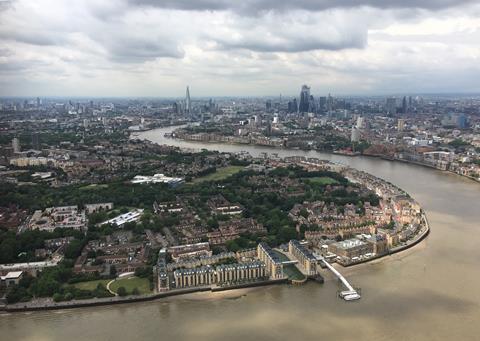 Public trust in private developers working on large schemes in the UK is at rock bottom, according to a new survey.
Only 2% of the UK public trust developers and fewer than one in 10 have faith in local authorities when planning large developments, according to research from London-based property giant Grosvenor Britain & Ireland.
Its poll found that the perception among ordinary people was that private developers "only care about making money", with three quarters of respondents citing this as a reason for their distrust.
After making money the second most cited reason for distrust was the belief that developers did not care about the needs of a local community when drawing up proposals for a job.
Grosvenor said industry and local politicians needed to act decisively to restore faith in the country's planning system.
Echoing the findings of the Building Better, Building Beautiful Commission's interim report, published earlier this week, Grosvenor Britain & Ireland's survey found that giving greater opportunities for local people to influence the outcome of a development scored highly (71%), as did more transparency from developers throughout the planning process (69%).
Grosvenor, which owns some of the most valuable real estate both in the UK and globally, said of people who had had dealings with the planning system more than 60% were more likely to think large-scale schemes had a negative effect on their area.
More than a third (39%) of those polled also felt councils weren't interested in what local people wanted and a similar proportion believed local authorities failed to understand the needs of residents.
Restoring trust would require the ability to hold private developers and local authorities to account for promises made at the outset of a planning process.
Grosvenor Britain & Ireland's chief executive Craig McWilliam said the findings of his firm's survey should act as a wake-up call to all those involved in large-scale development.
"With opposition to development and regeneration increasing, the number of new homes being built in the UK continues to fall behind need," he said.
"These findings are a significant wake-up call to all involved in large-scale development – the public doesn't trust developers or local authorities to act in their best interests. Together with others we must accept our responsibility, act to rebuild trust and back local government leaders shaping developments for the communities they serve."
McWilliam said his firm was committed to meeting the call for greater transparency and openness from developers.
Royal Town Planning Institute chief executive Victoria Hills called the survey results "disappointing" and said it was not the experience of her members.
She added: "For the planning system to work effectively, it is essential that planning departments are well-resourced to support proactive community involvement in planning consultation, decision-making and design. This works two ways: developers need to up their game on early engagement with communities and local authorities.
"However, we should be wary of placing additional burdens on local authorities who, as a result of austerity, have reduced their net expenditure on planning by 42% since 2009-10. Recent research conducted by the RTPI found that these swingeing cuts have eroded planning's ability to serve the public interest – to do their work effectively, planners must be adequately resourced and supported."
Grosvenor's commitments:
Make it easier for the public to weigh the value and costs created by a development. As an experiment this year it will detail "in plain English" the anticipated social and environmental benefit created for a community locally and more widely, alongside the expected financial risks and returns to the company of an upcoming development.
Increase transparency in the consultation, decision-making and design process for development by enabling scrutiny from an independent and objective commentator as a large-scale development is designed and delivered.
Help communities better understand how to get involved and influence developments – by developing a gold standard for consultation against which the business can be held accountable by councils and local communities.
Source: Grosvenor Britain & Ireland