Structural reform is only way to solve housing crisis, says former Peabody chief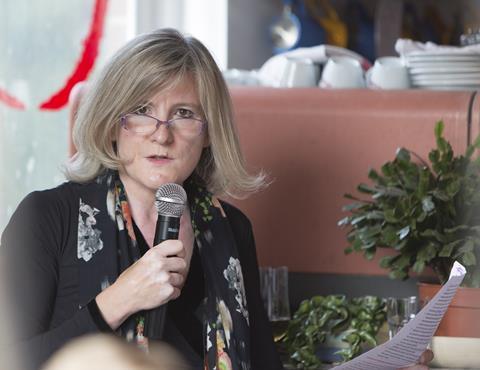 Architects won't solve the housing crisis by design alone because the numbers simply don't stack up, Peabody's former development director has said.
The problems the country faces are structural, said Claire Bennie, so the only way to tackle them is by campaigning for land use reform or even for a spatial strategy.
Speaking at a debate on affordable housing – the latest in the Negroni Talks series run by architects Fourth Space which also featured ZHA director Patrik Schumacher – she said some form of subsidy was required.
"It costs £250,000-£300,000 to design and build a flat in London," she said. "If you get £5,000 net rent then your return is 2% and that's just not sustainable.
"Money doesn't want to do that – public or private. If you do a home that's properly affordable it doesn't stack up and nobody wants to fund it. This is why the market doesn't work and something has to fill the gap," she added, addressing Schumacher who argued that a truly unfettered market was the solution.
"Architects are not going to solve this because you'd have to design something at a third of the price you are designing it at right now," she said.
"It's just not going to work so you've just got to go out and campaign on structural stuff like land use policy. Land is the thing that's the problem and we need to talk about that."
>> Also read: We need a spatial strategy to heal the pain behind Brexit
>> Also read: How to make planning a cause célèbre
She said historically the gap was plugged by philanthropists and then by the state but that the British had an ideological problem with subsidising shelter through the tax system – in contrast to other essentials such as education and health.
That must change, she said, adding that London should be allowed to raise its own taxes to tackle its specific needs. The revenue could then be used to subsidise council housing or to give away public land to genuinely affordable housebuilders such as the London Community Land Trust, whose director was another of the event's speakers.
"Most radically you could campaign for a national spatial and industrial strategy – and many like Lord Kerslake are – that takes the heat out of London and redistributes work and prosperity to where the spare land is. It's been tried about four times in the last 100 years and it's never worked," she added.
Bennie, one of the mayor of London's design advocates, worked at Peabody for seven years where she became known as a patron of good architecture and was responsible for appointing a raft of up-and-coming architects.
Two years ago she founded Municipal, a consultancy focusing on the delivery of good housing on public land.