Jurassic joy as practice's Crystal Palace Park project takes step forward
A community-led project to reconnect visitors to a south London park with its historic grade I-listed dinosaurs via a bridge designed by Tonkin Liu has hit a key funding milestone.
Crystal Palace Park's 30-plus dinosaur sculptures were installed in the mid-1850s after Joseph Paxton's Crystal Palace had been relocated to the site from Hyde Park, following the Great Exhibition of 1851.
The dinosaurs' artificial island home is currently only accessible by a temporary bridge that is only in place for a few days every year and which limits the number of visitors who can see the dinosaurs close up.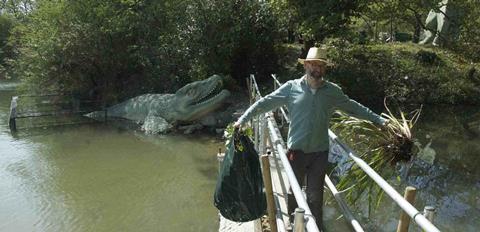 In September, registered charity the Friends of the Crystal Palace Dinosaurs launched a crowd-funding campaign to raise £70,000 to support the delivery of a new bridge and announced Tonkin Liu – winner of the 2018 Stephen Lawrence Prize – had agreed to provide some services on a pro-bono basis.
The campaign has received support from London Mayor Sadiq Khan, who pledged £30,000 to the project, and also the guitarist Slash, from Guns N' Roses, who donated a top hat for auction to support the cause.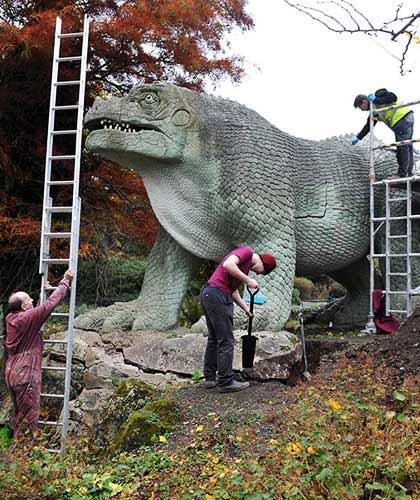 Crowdfunding website Spacehive said the funding milestone was reached on Sunday afternoon.
According to the campaign, £42,000 of the target is required for construction, £9,000 for engineering fees and £3,000 for strategy fees. It quoted architecture fees of £11,500 for the project. The remaining funding was identified for services for the campaign, VAT and open-day events.
Tonkin Liu said it was contributing £4,500 of pro-bono architectural work to the project while Arup was providing £9,000 of pro-bono engineering work.
The bridge design, as currently proposed, is based on the nature-inspired "shell lace" single-surface structural technique that the firms have pioneered.
Reacting to the funding milestone, Friends of Crystal Palace Dinosaurs thanked Tonkin Liu for its support in the project.
"They've given us their time and expertise, as well as donations in the form of pledges and auction lots," the group said.
Group board member Charlotte Wightwick said proposals for the bridge were still a work in progress, but that the final design would ensure the site's security was a priority.
"The Bridge will be lockable - we're still finalising design with our friends at Tonkin Liu but [it could possibly include] something like a drawbridge mechanism," she said.
"It's important we keep them safe!"
Tonkin Liu said it was working towards delivering the project on-site next summer.