Toy designed for architect's son emerges from owner's loft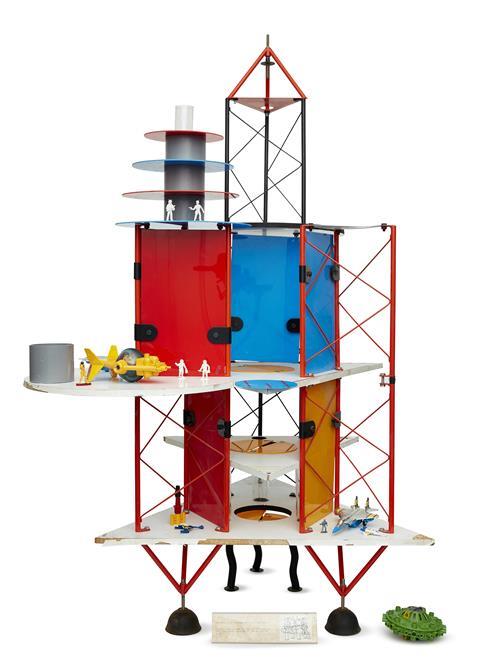 A giant high-tech dolls' house designed by Terry Farrell for his son goes under the hammer tomorrow.
The 176cm-tall hand-built toy, which was designed for a competition in 1981, is expected to make between £800 and £1,200 at auction.
The architect used it as an opportunity to take a pop at his professional rivals at the time, high-tech proponents Norman Foster, Richard Rogers and Nicholas Grimshaw.
The space-age design, which the auction catalogue describes as a cross between a rocket and an oil rig, was a response to his then eight-year-old son's brief.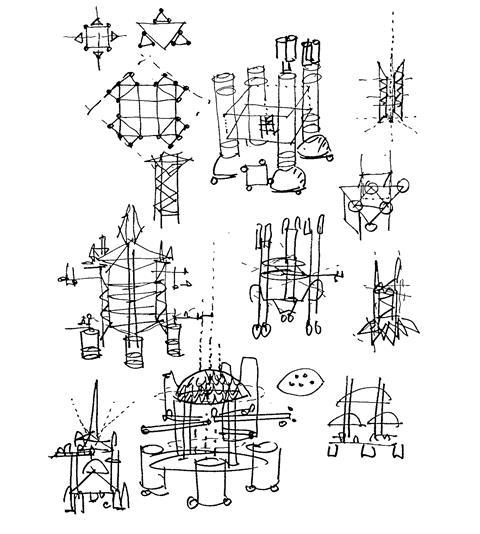 Farrell asked young Max – now a director of the practice – what make-believe place he would like to play with. When his son said a "space city", Farrell senior demanded a drawing to guide him (shown here).
He then sketched up some design development ideas (illustrated above) which he gave to his colleagues Steve Smith and John Letherland to build. They added some space toys which are part of the lot.
Young Max never got to play with it because it was immediately sold at a previous auction following the competition which was run by AD magazine and attracted 300 entries. It eventually ended up in an attic after the child for whom it was bought grew up and lost interest.
Farrell senior said: "The progress from child's fantasy to built project was an intriguing process. I don't think what we produced is of much architectural significance, although I found it musing to explore the child's view of high-tech as so many built expressions of high-technology seem to have been done by architects who are acting out supressed childhood fantasies."
The sale, 20th Century Art & Design, will be at Rosebery's on December 4.
Max Farrell told BD he was tempted to bid, "but I'm not sure I have the space for it. I think it's about six feet tall which was twice my height back then! It was a highlight of my youth as not many eight-year-olds get to have their fantasy toys built."
Catalogue description
Terry Farrell CBE RIBA FRSA FCSD MRTPI (1938-), a dolls house c. 1981/2, unsigned A huge hand built dolls house consisting of angular platforms, escape hatches and landing pads. Constructed from steel, plastic and laminated particle board. Also included are a large quantity of space toys and figures Height 176cm (ARR) Note: Terry Farrell, the renowned British architect and designer of buildings such as the MI6 building, Charing Cross station and the KK100 tower in Shenzhen, asked his son (Max) what his dream house would be. The answer was, as most 8 year olds would be, a cross over between a space station and an oil rig and this is the result. The AD (Architectural Design) magazine announced its competition in 1981 and was 'flooded with over 300 entries' (according to the NY Times article from August 11, 1983) of which this dolls house was one. Sold with illustrated magazine "Dolls' Houses", Architectural Design 53, 3 / 4 1983, no 135 Terry Farrell Dolls' house illustrated.