Solihull scheme would include a new high street, school and parkland
A vision for a 1,800-home garden village on green belt land in the West Midlands has been unveiled by the London Collective.
Developer Summix commissioned the network of built environment experts founded by Max Farrell to create a document setting out how the proposed Fulford Green development south of Tidbury Green near Solihull could look.
The early plans include 1,800 zero-carbon homes, a new high street, primary school and new public parkland.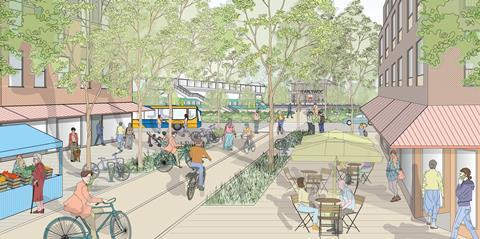 London Collective, which bills itself as a one-stop shop for public- and private-sector clients needing access to specialists in anything from architecture to branding, hopes the site will be included in Solihull council's draft local plan, which is the subject of a public inquiry beginning on September 27. There are no immediate plans to submit a planning application for the scheme.
The homes would be for a "range of different tenures and types", although Summix is not giving any more information at this stage on what the likely mix would be.
A spokesperson for the developer said: "In recognition of the potential to create an exemplary and sustainable new development, Summix has recently agreed to partner with adjacent landowners to form a vision for a new zero-carbon ready garden village community – Fulford Green.
"Over the coming months Summix will be developing its vision for Fulford Green. The site does not benefit from any planning status and there are no plans to submit a formal planning application at this very early stage."