US artist is working with Adjaye Associates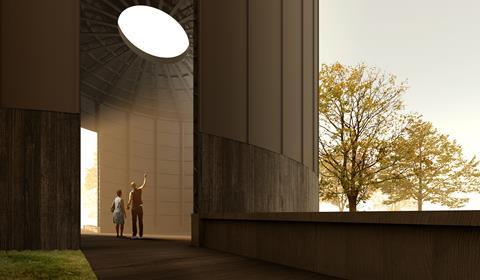 The first image of Theaster Gates' 2022 Serpentine Pavilion has been released.
It could be the tallest pavilion yet, its lofty 10.7m form, rendered mostly in timber, said to have been inspired by the kilns of Stoke-on-Trent.
Called Black Chapel, it is the culmination of a whole season of Gates' pottery-focused work, The Question of Clay, held in venues across London. The Serpentine has collaborated with the V&A, Whitechapel Gallery and White Cube to exhibit the US artist's work.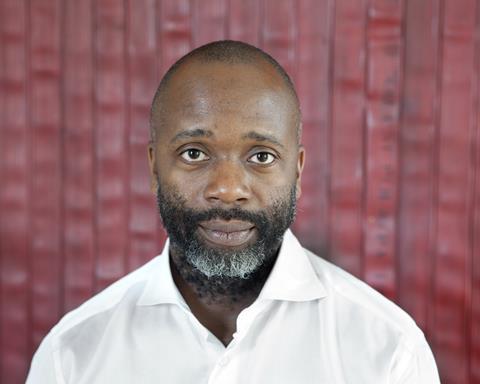 Gates, who is a professor at the department of visual arts at the University of Chicago, is an urban planner and sculptor by training whose artistic interests take in ceramics as well as urban intervention, installation, performance and religion.
One of his most famous works is the Dorchester Projects. In 2009 he bought and renovated a run-down building in his deprived South Side neighbourhood of Chicago, where Barack Obama was once a community organiser. Gates went on to create 32 affordable housing units for impoverished artists as well as a performance space and gallery.
He was announced as the designer of the 21st Serpentine Pavilion last year and has been supported by Adjaye Associates in bringing his design to fruition.
Gates said Black Chapel would pay homage to British craft and manufacturing traditions while also evoking the experience of being in a small chapel or sanctuary, top-lit by an oculus.
A bell taken from the South Side's demolished St Laurence Church will be placed next to the pavilion entrance and will be rung to announce performances and other activities.
Gates said: "The name Black Chapel is important because it reflects the invisible parts of my artistic practice. It acknowledges the role that sacred music and the sacred arts have had on my practice, and the collective quality of these emotional and communal initiatives.
"Black Chapel also suggests that in these times there could be a space where one could rest from the pressures of the day and spend time in quietude. I have always wanted to build spaces that consider the power of sound and music as a healing mechanism and emotive force that allows people to enter a space of deep reflection and/or deep participation."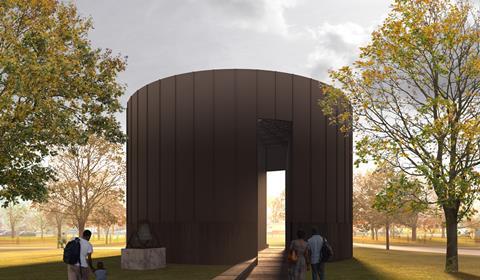 The name is shared with a commission Gates received from late museum director and curator Okwui Enwezor in 2019 to activate the central atrium of Munich art museum Haus der Kunst, originally built for the Nazi regime. The project was an attempt to bring black spiritual life to the building.
The Serpentine's Black Chapel, which will open in June, has been conceived as a space for live performances and participation with an emphasis on music and public engagement. It will continue the artist's ongoing practice of space-making through urban and architectural interventions, said Serpentine Gallery chief executive Bettina Korek and artistic director Hans Ulrich Obrist.
In a joint statement they described Gates as one of the most significant voices working today.
"Gates' praxis combines formalism, conceptualism and powerful impact felt throughout the communities in which he works and beyond," they said. "We look forward to welcoming visitors to Black Chapel as a platform for engagement, spirituality and togetherness."
They will be hoping this year's pavilion avoids some of the controversies that have dogged its forebears.
In 2019 Japanese architect Junya Ishigami was denounced for using unpaid interns in his studio, forcing the Serpentine Gallery to issue a statement saying none of them had worked on his pavilion. Later its press launch was postponed at the 11th hour to dodge protestors who were objecting to the then chief executive's husband's investment in Israeli surveillance technology firm NSO Group. Yana Peel resigned over the controversy.
A number of pavilions have also attracted bad publicity for their environmental performance.
The gallery addressed that in its press release about Black Chapel, describing it as "light-weight and fully demountable, with a focus on sustainably sourced materials and the reusability of the structure".
Aecom is engineer and project manager on the job.
The 21st annual Serpentine Pavilion will open June 10. Throughout the summer the pavilion will host the gallery's annual Park Nights series of music, poetry and dance, as well as educational activities.