Artist thanks David Adjaye for guiding him through regulatory side of architecture
The US artist Theaster Gates has spoken of his gratitude to his Serpentine Pavilion collaborators for helping him navigate the technical aspects of architecture.
Building regulations, embodied carbon, fixed budgets and tight timescales were among the challenges presented by scaling up from sculpture to building.
Gates said the 21st Serpentine Pavilion, titled Black Chapel, which opens on Friday, had also benefitted from their guiding hand to rein in his spending.
While no one will divulge the budget, Gates said: "They just told me, 'You are spending too much, Theaster'."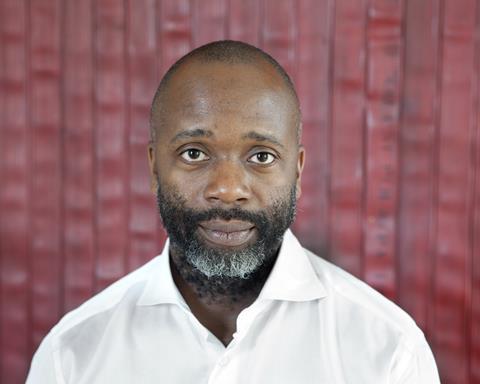 He is the first solo artist to win the annual commission for a temporary pavilion in Kensington Gardens. It is normally awarded to an architect who has not previously built in the UK. Last year's designer was Sumayya Vally of South Africa's Counterspace.
Gates teamed up with Adjaye Associates as well as regular pavilion engineers Aecom and David Glover to execute his concept of a contemplative space inspired by the Rothko Chapel in Texas and the bottle kilns of Stoke-on-Trent.
My ideas had to meet a bureaucratic process under condensed time so it was a real challenge

Theaster Gates
Chicago-based Gates is a potter – as well as a trained urban planner – and the pavilion is the climax of The Question of Clay, a series of exhibitions of his work staged at the V&A, White Cube and Whitechapel Gallery, all in London. He described Black Chapel as "one of the largest vessels I have ever made".
Standing just under 11m tall with a diameter of 16m, the drum-shaped building is also the largest Serpentine Pavilion. Its 200sq m encloses twice the volume of last year.
Speaking after yesterday's press launch, Gates said: "My ideas had to meet a bureaucratic process under condensed time so it was a real challenge: how do you translate big ideas into the built environment when you have safety standards, fire regulations, accessibility issues? It had to be a group effort where everybody was working towards the goal of making the best pavilion possible.
"David Adjaye was the translator and interpreter helping me weave through this process which threw up issues that sometimes needed to be dealt with in less than a day – like, 'Oh the lumens are too high'. We were able to solve those challenges beautifully because of the support from Adjaye Associates and Aecom. Without [my friendship with Adjaye Associates'] David Adjaye and Duncan Wilson the manifestation of this space wouldn't be as it is – and as [Serpentine director of construction] Julie Burnell needed it to be," he added with a grin.
Gates' original design featured a central path that was eliminated to keep costs down. Clay bricks were ruled out for speed; steel was largely replaced by timber and low-cement concrete to reduce embodied carbon.
"Ultimately it's become more interesting through value engineering," declared Gates.
The walls are of blackened timber, the spoke wheel roof is timber and steel with a central oculus. Domestically scaled timber roof trusses circle the interior, requiring less wood than if straight-cut timber had been used, while outside a 9mm stress skin stabilises the whole structure. The foundations are a ring of concrete pads, one beneath each column, around the timber floor which has to be tough enough to survive 300,000 pairs of feet and still have life for its next owners, a spa company.
Project engineers Madi Taylor and Jon Leach from Aecom said extensive life-cycle assessments found this to be the most efficient system, with concrete use a quarter of what it was last year and embodied carbon also lower despite the pavilion's greater size. But they were reluctant to reveal any figures without a detailed explanation. "The embodied carbon is as low as we could make it," said Leach.
On the lawn outside, a bell salvaged from a demolished Chicago church will be rung at the start of each event and is a further nod to Gates' hope that the pavilion will be a place to encounter the sacred. Inside he has hung seven abstract paintings made from tar, a material also used in the roof and elsewhere in Gates' work.
He spoke movingly about his recently deceased father, a roofer by trade. "The pavilion is also a memorial to my history of making with my father and his ability to communicate hard truths not by saying a whole lot but by being on a roof and teaching me life solutions by solving roofing problems," he said.
When he arrived on site at the Serpentine part-way through the build this year he said he was touched by the kindness of the contractors who responded positively to meeting their previously "invisible client". "I probably spent more time with them than with the curators," he said. "The way my dad was present at a site – their presence mattered to me."
:: Serpentine Pavilion: Black Chapel by Theaster Gates, June 10-October 16, 10am-6pm