Gallery chief's resignation overshadows unveiling of Japanese architect's slate-roofed structure
The wraps have been taken off this year's Serpentine Pavilion but the resignation of gallery chief executive Yana Peel has drawn focus away from Junya Ishigami's temporary structure in Kensington Gardens.
Japanese architect Ishigami's design sees slates arranged to create a single canopy roof that appears to emerge from the ground of the surrounding park. He said the interior is designed to mimic an enclosed cave-like space to give visitors a chance for contemplation.
Previous architects to have worked on the annual commission include Zaha Hadid, Frank Gehry and Rem Koolhaas. The technical consultant on the this year's scheme was Aecom.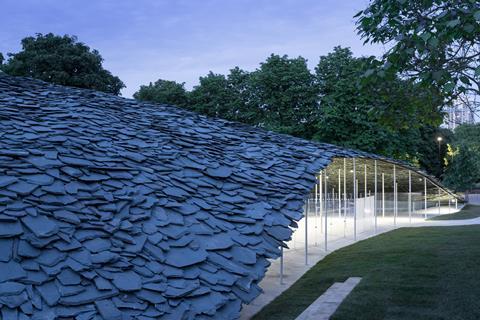 An official press preview for the structure was due to take place yesterday, but it was cancelled following Peel's surprise resignation on the eve of the event.
Peel said she had been on the receiving end of a "concerted lobbying campaign" against her husband's investments and warned that such "bullying" would "risk an erosion of private support" for the arts.
Her husband Mark Peel is a private equity investor with a majority stake in Israeli surveillance technology firm NSO Group.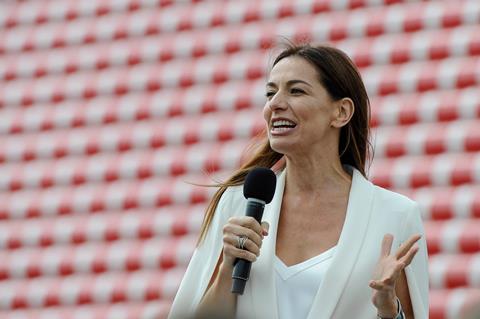 It is the second controversy to hit his year's pavilion, after it emerged that Ishigami routinely used unpaid interns to staff his office in Japan.
After a social media campaign the Serpentine announced it would insist that none of the work on the pavilion was done by unpaid interns.
A statement from the gallery following Peel's resignation paid tribute to her work to strengthen the institution's financial as well as its cultural position.
It added: "While we have every confidence in the Serpentine's ability to continue to serve artists, visitors, and supporters in the future, she will be sorely missed. The arts sector will be poorer without her immeasurable contributions to our cultural lives."
Yana Peel's resignation statement
In light of a concerted lobbying campaign against my husband's investments, I have taken the decision to step down as CEO of the Serpentine Galleries. I am saddened to find myself in this position. I have dedicated the majority of my professional life to public service in the cultural sector. I am proud of all that has been achieved for art and artists in my roles as co-founder of Outset, chair of Para Site Art Space and supporter of many arts institutions in London.
The work of the Serpentine – and its incomparable artistic director – cannot be allowed to be undermined by misguided personal attacks on me and my family. These attacks are based upon inaccurate media reports now subject to legal complaints. I have decided I am better able to continue my work in supporting the arts, the advancement of human rights and freedom of expression by moving away from my current role.
I have committed 15 years to the Serpentine – as council member, capital campaign founder, board member, and most recently in my last three years as CEO. We have brought the Serpentine back to a strong financial position, attracted corporate and private support at unprecedented levels, structured a management team that has set a new industry standard, and significantly increased audience size and diversity. With the support of an incredibly loyal group of donors, sponsors and collaborators, and our brilliant chairman, I am confident the Serpentine has never had a brighter future.
A word for the wonderful community of artist and supporters, with whom I will continue to engage. The world of art is about free expression. But it is not about bullying and intimidation. I welcome debate and discussion about the realities of life in the digital age. There is a place for these debates, but they should be constructive, fair and factual – not based upon toxic personal attacks.
If campaigns of this type continue, the treasures of the art community – which are so fundamental to our society – risk an erosion of private support. That will be a great loss for everyone.