First winner of Obel Award announced
Junya Ishigami has become the first winner of a brand new €100,000 architecture prize.
The Japanese architect was announced as the inaugural winner of the confusingly named Obel Prize funded by an endowment left by Danish businessman Henrik Frode Obel at a ceremony at the Utzon Center in Aalborg, Denmark, today.
Ishigami was the designer of this year's Serpentine Pavilion, a commission that sparked controversy when he was accused of benefiting from unpaid interns working long hours. He later claimed everyone was paid apart from "volunteers" on work experience.
The Obel jury, chaired by landscape architect Martha Schwartz, picked Ishigami for his Art Biotop Water Garden in Tochigi, Japan, where he created a woodland landscape dotted with ponds. Ishigami transplanted hundreds of trees to a rice field after they were set to be chopped down to make way for a hotel.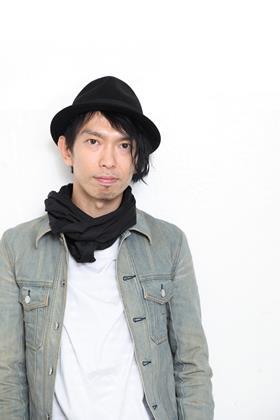 Schwartz said: "Ishigami's architecture is the architecture of space, not of object, which is a departure from conventional architecture. He discards the idea of architecture as a built, utilitarian structure by reversing the business-as-usual process, which is: building first, landscape second – if at all. Instead, with the project Water Garden, Ishigami leaves us wondering: is this architecture, landscape architecture, or art?"
The Obel Award is a new, international prize for architectural achievement presented annually by the Henrik Frode Obel Foundation, which was founded by Obel before his death in 2014. The prize is €100,000 and a work by artist Tomás Saraceno.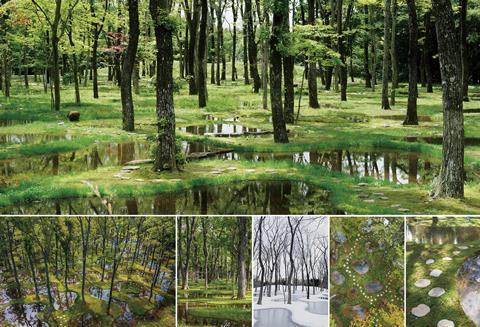 Each year a theme will be set – this year's was "welfare through architecture" – by the jury which includes Snöhetta co-founder Kjetil Trædal Thorsen, Henning Larsen partner Louis Becker and German professor Wilhelm Vossenkuhl.
Potential laureates are proposed by a panel of independent architectural specialists based around the world.
The Henrik Frode Obel Foundation, based in Copenhagen, said it had three main goals: to present the Obel Award "to honour and recognise exceptional architectural contributions to human development"; to award funds and travel grants to architecture students "to promote architectural excellence and a global perspective within academia"; and to hold an annual symposium "to promote the circulation of new ideas across disciplines and continents".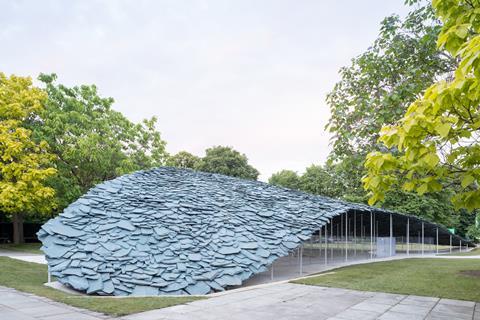 Jury statement
Title: Art Biotop Water Garden
Office: Junya Ishigami & Associates
Place: Japan, Tochigi
Year: 2013-2018
With its deliberate composition of natural elements, the man-made landscape Art Biotop Water Garden resets the boundaries between architecture, landscape architecture, art, and environmentalism.
The garden is at once a highly artificial landscape, carefully modelled and dependent on technological artifacts, and an undeniably natural and living organism that grows and changes by its own inherent dynamics. In this way, the garden intermingles different time-spaces: a presence of former, existing and future layers of landscapes. But although it is a large-scale and rather invasive project involving, as it does, the relocation of an entire forest tree by tree. Junya Ishigami makes evident what great respect and care for the environment means.
Ishigami's approach relies in large part on emotions and sensations and is based on the context and the qualities of the landscape. The result is a landscape full of beauty and atmosphere – a highly poetic space that strongly influences the emotions of the visitor.
With the project, Ishigami invites professionals within the fields of architecture and visitors alike to foster a greater appreciation for the environment and to understand our relationship to it, but also to act with imagination, bravery, and respect. The project demonstrates how we can interact with and make our imprint on nature without destroying it. In this sense, the Art Biotop Water Garden is a seminal contribution to the fields of architecture.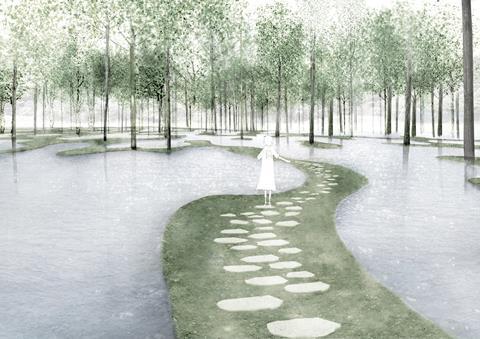 Jurors' quotes
»The project has a strong message in the way that it retells the story about nature. It is an artificial landscape and highly technological, but at the same time, it is extremely poetic. The daylight filters through the leaves and branches, which are mirrored in the small water pools, where rain drops hit the water.
Before visiting the winning project, I had of course studied the plan, but I have to say that seeing it firsthand was beyond what I have ever seen in pictures. To me, it was one of these great moments in architecture that you only have a few times in your life as an architect.«
- Louis Becker
»Ishigami's beautiful forest is a very interesting example of willingly designing something that is artificial, but also absolutely natural. The project fulfils all the criteria of the Obel Award: It is a new invention, it works very strongly with the emotions, and the work is directly related to landscapes and nature. It is a landscape that is full of beauty.«
- Kjetil Trædal Thorsen
»It is a very interesting choice, although Ishigami's project does not immediately connect up with social aims. It looks as if it is a piece of art. But then it is obvious that the project integrates ecology and architecture. The project shows how, e.g., a hotel can be carefully placed into a landscape without destroying it. One of the most important aspects of seminal architecture is to take care of the landscape and respect the environment. Ishigami shows that the landscape – standing for nature as a whole – is a value in itself. This is an important philosophical idea. Nature cannot speak for itself, but we can and have to speak for it.«
- Wilhelm Vossenkuhl