US professor is third artist to land prestigious commission
The celebrated American artist and activist Theaster Gates has been commissioned to design next year's Serpentine Pavilion.
Gates, who is a professor at the department of visual arts at the University of Chicago, is an urban planner by training whose artistic interests span social practice, urban planning, installation, performance, ceramics and religion.
One of his most famous works is an urban housing intervention known as the Dorchester Projects. In 2009 he was moved to buy and renovate a run-down building in his home neighbourhood of the South Side of Chicago. By repeating the process he has now created 32 affordable housing units for impoverished artists and a performance space as well as a gallery in a former bank where he exhibits artefacts from African-American history.
A collaboration with Brinshore Developers, architects Landon, Bone, Baker, the Rebuild Foundation and the Chicago housing authority, he described the Dorchester Art and Housing Collaborative (DAHC) as sincere and beautiful and said it was "one of the most relevant and fulfilling for me".
He wrote on his website: "I wanted to make a real intervention in the lives of other artists. My spaces, almost all of them were at one time abandoned. On the block and in the neighbourhood, many who could leave, did. Impact to me is about action. It is hard to understand that in an area where there is abject poverty, simply choosing to stay becomes a radical act, even if you didn't intend for it to be radical…
"The truth of the project is that so much more is needed from us all, policy makers, writers, activists, lobbyists, businessmen and women, preachers and teachers and thinkers and artists. Most people would rather do nothing out of the reasonable fear of exposure. So no one does anything. No one says anything."
Gates will design the 21st Serpentine Pavilion, following this year's project by South African architects Counterspace which is nearing completion in Kensington Gardens after being postponed by a year due to the pandemic.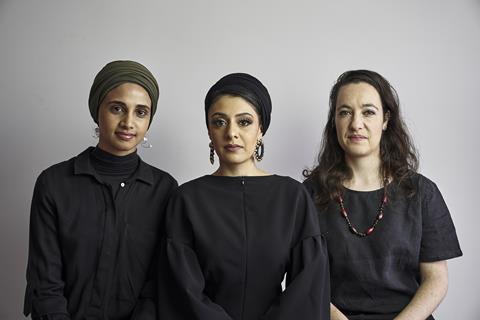 Gates is the third artist to work on the annual commission but the first to do so solo. Chinese artist Ai Wei Wei worked with Herzog & de Meuron on the 2012 pavilion, reprising their collaboration on the Bird's Nest Stadium at the Beijing Olympics. And Icelandic-Danish artist Olafur Eliasson worked with architect Kjetil Thorsen of Snohetta in 2007.
The rules, at least in theory, set by the Serpentine Gallery are that the designer should have not previously built in the UK, although Jean Nouvel's appointment tested that to the limit since his One New Change shopping centre was completing in the City of London the year his pavilion aired.
No details of Gates' plans have been revealed. A spokeperson for the gallery would only say that they were excited to be working with Gates.
Counterspace's pavilion is due to open on June 11 and run until the middle of October.