Gallery confirms no glitzy parties to celebrate 20th annual architecture commission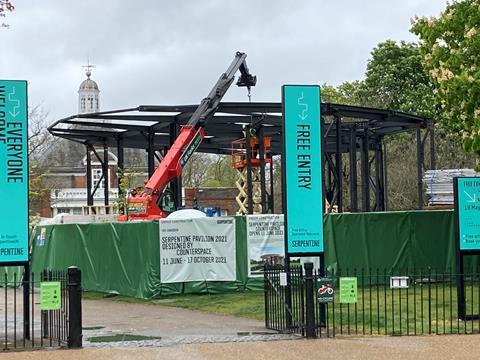 Counterspace's Serpentine Pavilion is finally taking shape in Kensington Gardens a year after it was originally due to open.
These exclusive construction shots show the frame is almost complete, though there is still plenty of work to be done before it resembles the post-modern neo-classical visualisations released last year.
The gallery confirmed there would be no launch parties this year. In past years the glitzy parties have guaranteed the pavilion plenty of media coverage.
The 20th pavilion has already sparked controversy for its use of 95m3 of concrete for the foundations of a pop-up structure which was described as using recycled and eco-friendly materials above ground when the South African practice was named as its designer in February 2020.
Counterspace's three female directors were said to be the youngest-ever architects to receive the prestigious commission. Sumayya Vally, Sarah de Villiers and Amina Kaskar were all born in 1990. They were recently named by Time magazine as among the Time100 Next emerging leaders shaping the future.
Vally, the project's lead architect, said their design would take the pavilion well beyond the park railings for the first time and would "reference gathering and community spaces around the city, folding London into the Pavilion structure in Kensington Gardens".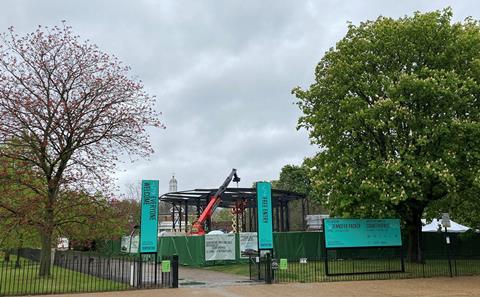 It is doing this by incorporating small moveable parts found in neighbourhoods across London which will later be returned at a series of public events in those places which were chosen because of their relevance to "peripheral communities".
In April last year the commission was put on ice – or extended, in the words of the gallery – for a year. Counterspace said it would devote the extra year to research projects.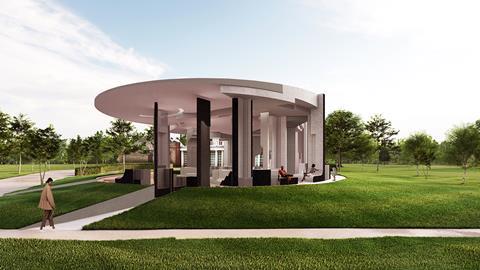 David Adjaye, who is a Serpentine Gallery trustee and advises on the annual commission, said at the time: "Rather than rush to execute Counterspace's stellar design as soon as it is safe to do so, the Serpentine has chosen to accept the slowness reshaping society today and utilise it to develop a deeper relationship with the architects.".
Vally said: "We've always relied on places of gathering to come together and we miss them when they're gone. Covid-19 has brought the pavilion themes of community and gathering sharply into focus."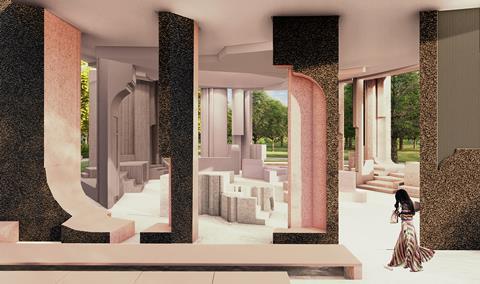 She has previously described the pavilion as being "conceived as an event – the coming together of a variety of forms from across London over the course of the pavilion's sojourn".
A spkeswoman for the gallery said there would be no launch parties this year but that a "full programme of activations" during the summer would be announced when the gallery reopens next week.
The pavilion is due to open on June 11 and run until the middle of October.