Watchdog also publishes report on spending plan for Parliament upgrade
The National Audit Office has confirmed it will be looking into the government's handling of the covid-19 pandemic.
The spending watchdog said it will run the rule over the government's spending in response to the coronavirus crisis – including the construction of the temporary hospitals to deal with the outbreak.
Meanwhile, it has also produced a new report on the Palace of Westminster Restoration and Renewal Programme, evaluating that project's value for money.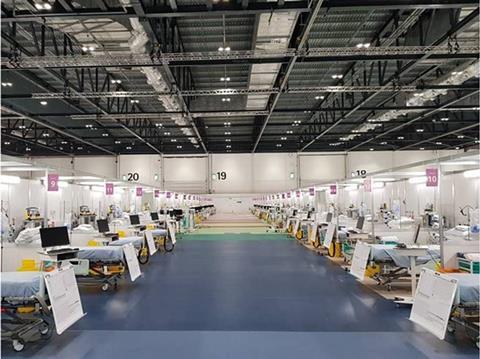 On coronavirus, it said: "In light of the wide range of activities that form the government's response to covid-19, we intend to carry out a substantial programme of work to meet Parliament's accountability requirements.
"This will include looking at government preparedness for the pandemic, the spending on the direct health response and also the spending on measures to protect businesses and individuals from the economic impact."
The NAO will start with a factual summary of the significant government spending relating to covid-19, which it is aiming to publish next month.
Meanwhile, it has produced a new report, Palace of Westminster Restoration and Renewal Programme, evaluating the project's value for money.
Parliament has set up an Olympics-style sponsor body from this month to oversee the programme on its behalf. Its first task will be to prepare the business case, currently expected by autumn 2021.
The report looks at the programme at this early stage to identify potential risks and recommend how these may be addressed.
Gareth Davies, the head of the NAO, said: "It is vital that from the outset the sponsor body and Parliament work together to apply the lessons from other major projects. This will allow them to manage the risks to value for money and timely delivery and maintain public confidence in the programme."
The report said clear objectives need to be agreed to manage the risk of the programme now to avoid cost increases and delays creeping in.
But it warned the long-term nature of the programme made it likely that technology and working practices will change, increasing the risk that requirements may change – leading to costs increasing.
Key findings and recommendations about the restoration of Parliament
We recommend that Parliament:
• Puts in place clear structures to provide the sponsor body with a single set of objectives and requirements that brings together perspectives from both Houses; and
• allows the sponsor body to make decisions and fulfil its statutory role, using clear and agreed measures to monitor its progress.
We recommend that the sponsor body and Parliament:
• put in place clear structures to work together to establish a single set of objectives and requirements; and
• clarify roles and responsibilities for managing risks and uncertainties, including how roles may change during the Programme.
We recommend that the sponsor body:
• finalises its engagement strategy to ensure Parliament is kept informed and its views are sought at the right time; and
• ensures that it has the necessary skills, knowledge and expertise to engage effectively with Parliament.
We recommend that the sponsor body and Parliament:
• agree clear objectives and requirements for the Programme's business case, being realistic on what can be achieved without 'gold-plating'; and
• in agreeing requirements, consider the needs of those who will work in the Palace, and how the Palace will be maintained, in future years.
We recommend that the sponsor body:
• identifies and evaluates the elements of the Programme which are uncertain, and develops a plan to reduce these over time; and
• for each area of uncertainty, considers how these will be reflected across the Programme such as through estimates, ranges or contingencies. Ranges could be calculated based on either probability or scenario-testing depending on the degree of uncertainty. These and contingencies should be adjusted, and reduced, as things become more certain.
We recommend the sponsor body:
• works towards developing evidence-based cost and time ranges to manage the Programme. These should include a plan with milestones setting out when estimates could be reassessed with more certainty and the ranges narrowed;
• develops, alongside these ranges, internal benchmarks and information to measure performance such as a target cost for the Delivery Authority to work to and an overall budget; and
• explains, including to Parliament, the need to use ranges for cost estimates and completion dates at this stage given the inherent uncertainties. Once developed, the sponsor body should publish this information regularly in a standardised format, reflecting the information available at each stage of the programme.
We recommend that the sponsor body and Parliament:
• introduce clear and agreed change processes that establish which changes are significant enough to reopen requirements after the business case has been approved, and how the time and cost implications of any changes are weighed against potential benefits;
• use the opportunity of 'natural breakpoints' to reconsider the strength of early assumptions about time and cost rather than continuing based on outdated assumptions; and
• reduce the likelihood of previous decisions being reopened, by ensuring they are transparent, based on the best available evidence and making clear the cost and timing implications of any alternatives.
We recommend the sponsor body:
• as part of its integrated plan, clarifies responsibilities for projects and sets out the interdependencies between them. The plan should be regularly reviewed and provide a realistic view of when projects should deliver, the aggregate risk and key milestones;
• establishes the processes and functions needed to manage the project interdependencies and to understand overall progress; and
• where risks need to be taken, such as starting a project early given a wider interdependency, recognises and manages the additional risks.
We recommend the sponsor body:
• considers up front how to balance freedom and oversight of the Delivery Authority across the different Programme stages, ensuring it has the right controls in place to manage the relationship as it evolves; and
• develops a clear assurance plan appropriate to the risks and maturity of the Programme. This should make the most of opportunities for the Programme to be externally assured, such as through the Infrastructure and Projects Authority