'I would like us to move very quickly', says minister
Housing secretary Robert Jenrick has promised government will implement "as much as we can" of the Building Better, Building Beautiful Commission's report.
Speaking at the launch yesterday, he described it as a bold and meaningful challenge to government and the development industry.
He said: "We will, of course be responding in full to all of your recommendations in due course, and I will work with my cabinet colleagues to implement as much of the report as we can – in the knowledge that there has never been a time, certainly not in my lifetime, when this agenda – good quality homes, communities and places – has mattered more."
Pushed on a timescale, he said: "I would like us to move very quickly. There are over 100 recommendations in all and we need to consider them carefully. But the lion's share are things we can and should do. Many can be fulfilled through regulation changes such as amending the National Planning Policy Framework and could be done quite quickly."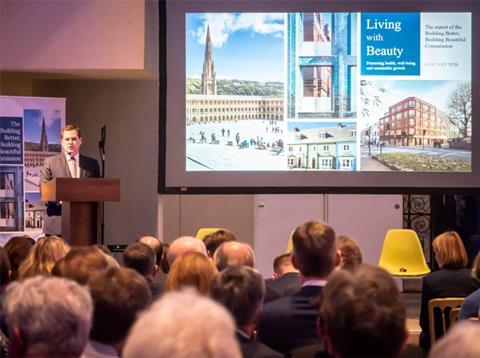 If that route were taken, it would be the third time in as many years that the NPPF has been revised. A planning white paper is also in the pipeline, with insiders tipping a possible publication date after the budget in March.
Other recommendations, such as creating a level VAT playing field for refurbishments, would need to be agreed by chancellor Sajid Javid – but Jenrick told journalists: "I will be having conversations with him."
He pointed to the work that has already taken place to create a national design code which councils will be able to adopt – although they are being encouraged to create their own codes responding to local conditions.
Asked which recommendations he did not support, Jenrick said: "We will be coming back very quickly with our responses, setting out which recommendations we can take up immediately, which require further consideration and where we respectfully disagree with the commission. But you've heard in my speech a pretty strong indication that we're on the same page with Nicholas [Boys Smith, the commission's co-chair] and that the majority of these findings are things I personally want to take forward for as long as I continue to be secretary of state."
A reshuffle is expected some time in the next two months but Jenrick did not respond to questions about what would happen to the report if he was moved on – or indeed whether he planned to act on its final recommendation that a temporary monitoring body be established.
One Whitehall watcher told Building Design the critical thing was to get buy-in from other departments but it was too early to predict whether that would happen.
The chances would be greatly increased if another of the report's recommendations is implemented: giving a cabinet minister responsibility for ensuring quality of place is enshrined in all new developments.
Tory MP John Hayes, the former minister who served as the commission's parliamentary advisor, told Building Design this was one of the most interesting recommendations.
"Perhaps the one that stands out most of all is the concept of place and the idea it should be at the heart of the government's narrative and policy," he said.
"To achieve that, a Minister of or for Place is needed, either in MHCLG or perhaps in the Cabinet Office with a reach across government departments. Making it someone's personal responsibility will give this idea the energy it needs to succeed. Ideas can be accelerated by the way they are embedded in government policy and practice."
Last year Andy von Bradsky was appointed the government's head of architecture, fulfilling one of the recommendations in the 2014 Farrell Review, a precursor to Scruton's report. And a year before that Theresa May added housing to the name of the Communities and Local Government Department as an acknowledgement of the seriousness of the housing crisis.