Studio E associate details 'frustrating' exchanges over proposals to stop fire-spread for tower-block refurb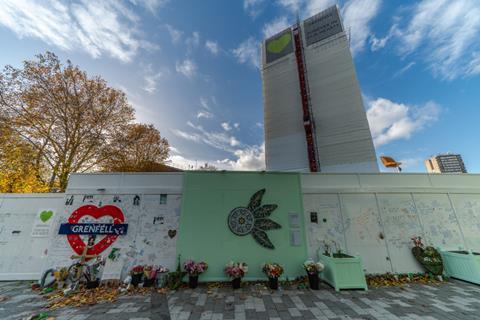 Building control officers responsible for signing off the proposals to overclad Grenfell Tower as part of its ill-fated refurbishment did not understand the difference between cavity barriers and firestopping, Studio E Architects' project lead has said.
On his last day of evidence to the Grenfell Inquiry, Neil Crawford related "frustrating" exchanges with Kensington and Chelsea council's building control officers over plans to limit the spread of fire between the original concrete exterior and the new envelope proposed for the 24-storey block.
Crawford said in his written witness statement to the inquiry that there was a lack of clarity on the part of officers John Hoban and Paul Hanson over proposals for cavity barriers – to stop fire spreading in the cavity between the cladding and original concrete panels of Grenfell Tower – and firestops. The latter would be required to stop fire spreading between floors or through openings in fire-rated walls.
Crawford, who is only part-II qualified and cannot legally describe himself as an architect, said the seeming confusion had prompted Hoban and Hanson to seek cavity barriers that exceeded the requirements of Building Regulations.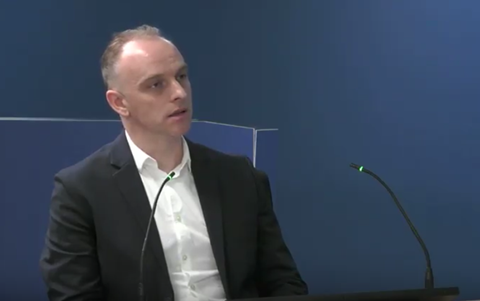 The inquiry heard that the officers had sought cavity barriers with 120-minute fire-resistance when the regulations only required 30 minutes, potentially adding £12,000 to the cost of the project and additional delay.
He said it appeared that the building control officers had a different interpretation of the requirements for cavity barriers to that of specialist sub-contractor Harley Facades, Studio E and design-and-build contractor Rydon.
"Harley were always proposing cavity barriers," Crawford said. "I think building control for quite some time became fixated with the idea that it was firestops, and to my mind and to Harley's mind they weren't.
"I never thought there should have been firestopping within the build-up. The notion of the firestopping came from building control.
"I didn't agree with the cavity barrier strategy that Harley had, but I was trying to get to a position with building control that they would accept what we were proposing; that our interpretation was acceptable to them.
"At the end of the day, they were signing it off, and they had the last word on compliance, so there had to be an agreed position."
Crawford said the "reality" was that firestopping would not have been possible in the situation of Grenfell Tower's overcladding. But the former Foster & Partners staffer said that if Hoban and Hanson had insisted on a cavity barrier solution of a higher fire rating to comply with their understanding of Building Regulations it would have been installed to achieve sign-off.
He acknowledged that there were parts of the Grenfell Tower refurb project that would have required firestops because the proposals involved curtain wall meeting concrete floor slab, and accepted there had been scope for "misinterpretation" of the regulations.
Seventy-two lives were lost after fire took hold of the west London tower in the early hours of June 14, 2017, following the building's refurbishment and overcladding with a flammable rainscreen-and-insulation system.
The inquiry continues.