Tower Hamlets infill project will add 142 new homes to Mile End estate
Ian Ritchie Architects proposals that will add 142 new homes to an east London housing estate have been given the go-ahead by Tower Hamlets councillors.
Ritchie's scheme will put two-storey roof extensions on to five existing blocks on the Mile End estate, along with the conversion of garages and the addition of other infill homes.
The scheme, approved by members of Tower Hamlets' strategic development committee at their most recent meeting, was described as having the potential "to be a precedent for future estate regeneration" by planning officers.
"The proposal does not involve any substantial demolition works and would not necessitate displacement of existing residents," they said.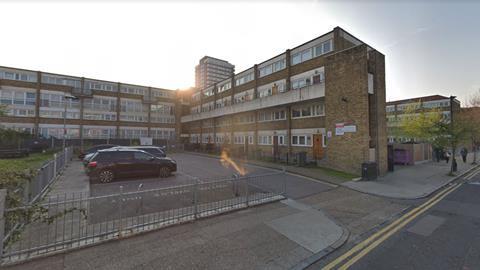 Officers added that while the original proposals for the project would have seen 49.5% of the new accommodation classified as "affordable", when measured by habitable room, estate operator East End Homes had secured funding from Mayor of London Sadiq Khan to increase the figure to 78.4%.
Ritchie, whose practice is based in nearby Poplar, was last year named joint winner of RIBA's Best London Building accolade for his Susie Sainsbury Theatre and Angela Burgess Recital Hall at the Royal Academy of Music.
He said the Mile End scheme set an "extraordinary benchmark" for delivering new affordable homes and was believed to be the capital's most extensive estate rooftop development consented to date.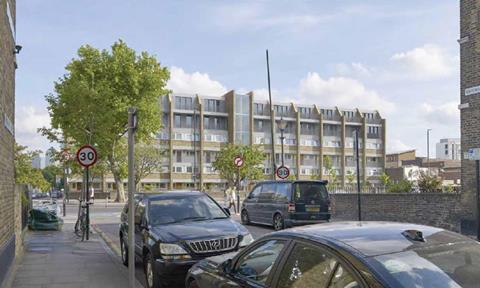 Recommending the proposals for approval, planning officers said Ritchie's designs responded to the character of each building to "create a distinct addition while maintaining a coherent and integrated architectural language" across the estate.
"The design of the extensions would be sympathetic to the existing buildings and – subject to securing details of materials and architectural detailing by condition – the proposed extensions represent good quality design," they said.
Officers added that the Mile End area had a mixture of building heights and that additional two-storey extensions would not appear overly dominant or be out of character with the surroundings – which include two conservation areas.
According to planning documents, the funding secured from the Greater London Authority means the scheme will deliver 41 "affordable rent" units; 58 "intermediate" units; and 41 units for open-market sale – the latter predominantly studio and one-bed flats.
Ritchie said all but 11 of the new homes would be delivered via roof extensions.