More than 98% vote for redevelopment of east London estate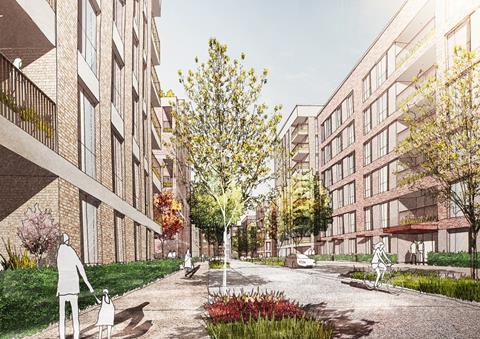 PRP's plans to redevelop an estate in east London were approved by an overwhelming majority of resident.
More than 98% voted in favour of the plans to replace three council blocks on the Clichy Estate in Stepney, on a turnout of more than 90%.
Some 132 residents were eligible to vote. Since July 2018, London estate regeneration schemes involving the demolition of existing homes and the provision of 150 or more units have required a residents' ballot in order to receive Greater London Authority grant funding.
PRP has been working with Tower Hamlets council since 2019 to draw up early masterplan ideas for how the estate could be redeveloped.
The council wants to replace Harriot, Apsley and Pattison Houses with 450 units, 79 of which will be replacement homes for existing tenants and resident leaseholders. A minimum of 35% of the additional homes are intended to be "affordable" and to contribute to an overall target of 50% of all the new homes to be affordable, in line with the council's local plan.
PRP's concept designs are for a series of mid-rise blocks and landscaped spaces that include trees, planting, grassed areas and children's play areas.
The architect will now work up more detailed plans in consultation with residents. It hopes to submit a detailed planning application next spring.
Stephen Martin, associate director at PRP, said the Clichy Estate regeneration would "breathe new life into the area" and provide community facilities and green spaces for the residents and wider community.
The new development will be car free, in accordance with the council's planning policy. Parking spaces will be available for adapted/wheelchair-accessible homes only, enabling the creation of more green and open spaces. Secure cycle storage will be provided.