Henley Halebrown also worked on plans for 2,550 homes, leisure centre and library
Wandsworth council has approved HTA-led proposals for a huge estate-regeneration programme in Battersea that will deliver 2,550 new homes.
The scheme will transform the south London neighbourhood's York Gardens and Winstanley Road estates for a joint venture between housebuilder Taylor Wimpey and the council, and also features elements by Henley Halebrown, Figure/Ground and LA Architects.
In addition to the new homes, 35% of which are designated as "affordable", the scheme will deliver a leisure and community centre, a library, a children's centre and nursery, and a new 2.49ha public park.
HTA managing partner Simon Bayliss said the multi-practice architectural team had evolved a scheme that had been "inspired by Battersea".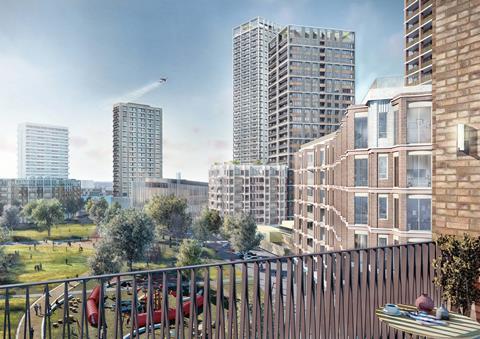 "The scheme will deliver new homes to buy and to rent, including new social rent and shared ownership homes for local residents," he said.
"The masterplan is focused around a beautiful new park, along with a new leisure centre, library and nursery for Wandsworth council."
Wandsworth council leader Ravi Govindia said that while the scale of the scheme meant mayor of London Sadiq Khan's approval was required, the permission-in-principle decision was a milestone for the project.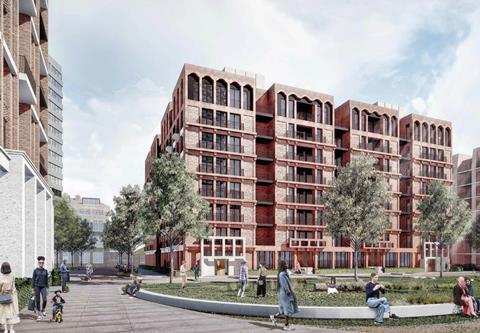 "We have carried out varied and extensive rounds of public consultation, ensuring that residents and the community have their say on our ambitious plans," he said.
"In summer 2019, we completed works on 46 new affordable homes as part of the first phase of this development, which provided new council homes for existing estate residents.
"We are committed to building on this and boosting the provision of housing in the area."
The tallest element of the scheme is a 32-storey HTA-designed residential block, featuring a leisure centre and a library designed by LA Architects at its lower levels.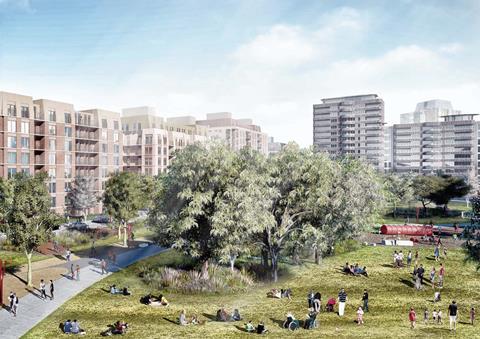 Although the proposals were presented as the first phase of redevelopment for the Winstanley Road and York Road estates when they were lodged for planning last year, HTA – along with Figure/Ground Architects and Henley Halebrown – last year won planning for the scheme's so-called "phase 0".
That phase features 139 new homes split between a 20-storey residential block and lower-rise units, and a six-storey community building earmarked to provide a permanent home for Thames Christian College and Battersea Chapel Baptist Church.