Cheshire-based report author never visited west London tower block for existing-building profile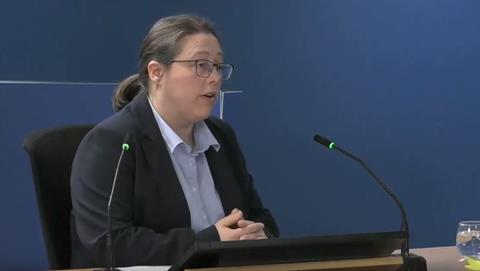 The fire expert who told a colleague that elements of Studio E's proposals to refurbish Grenfell Tower would make the building's "crap condition worse" made the observations without visiting the 1970s block, it has emerged.
Cate Cooney, a former building control officer, was working for fire-safety consultant Exova when she wrote the comments in an internal email in 2012, the public inquiry into 2017's tragedy heard yesterday.
She was the author of a fire strategy report prepared to inform the refurbishment of the 24-storey local authority block in 2012 – and was also subsequently asked for her thoughts on early stage proposals for the project itself.
In addition to over-cladding the block in what turned out to be a fatally flawed combination of materials, Studio E Architects' proposals included repurposing Grenfell Tower's podium level to include new homes.
One of thousands of items of evidence being probed by the inquiry is an August 2012 email from Cooney that suggests the proposals are "not great" because of the way they mixed use-classes around a single staircase. She suggested they would require "massage" to be acceptable to Kensington & Chelsea council building control officers.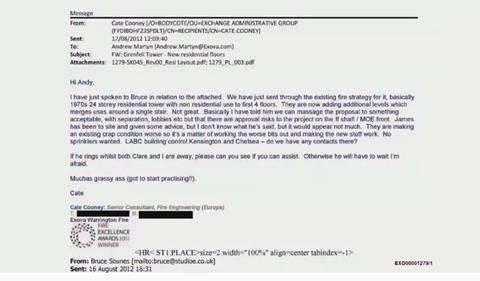 The email continued with the now notorious observation: "They are making an existing crap condition worse and so it's a matter of working the worse (sic) bits out and making the new stuff work."
Asked about her observations by inquiry counsel Richard Millett, Cooney insisted that her use of the word "massage" referred to the introduction of design changes that would make the proposals acceptable to building control, rather than influencing building control professionals at Kensington & Chelsea.
In relation to her "crap condition worse" comments, Cooney said it was a simple observation that the current arrangements at the lowest levels of the tower were not great.
"There were some non-residential areas off the single stair, which under modern-day guidance would not be what we were ideally looking for," she said.
"To in fact negate the risk from those we needed to introduce measures to improve that situation. This is where you try to improve on an existing condition."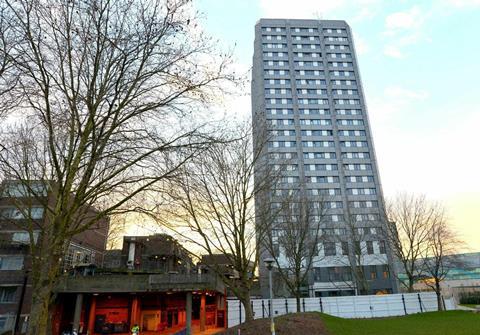 Cooney said the insertion of new homes at the lower levels was the aspect that made that existing situation more problematic.
"They were adding additional flats to the building; they were changing the escape routes for the residents," she said.
"The residents would come out of the single stair and through the building… those new provisions were making it less satisfactory.
"I didn't like the non-lobbied approach that they had to other purpose groups."
Cooney said that her comments had not been intended for clients on the project to see.
"I'd been asked to give some thoughts on a building and this was just to say 'it's not where it needs to be'," she said.
Earlier in the day, Cooney revealed that she had not visited Grenfell Tower as part of her preparation work for the so-called "Existing FSR" she had been commissioned to put together for Exova as she was based in Warrington.
The inquiry panel heard that a London-based colleague had conducted a two-hour site visit, but that Cooney had found herself seeking key information about the building's pre-refurbishment state from Studio E and that her draft report contained information that required confirmation.
Asked whether it would have been useful to have visited the site herself, she replied: "It would have been, yes".
She also told the inquiry that her report – which was essentially a desk-top study – had been hampered by poor-quality drawings copied from microfiche records of the original designs for the 1974 tower.
"The piece of work that I was given was basically a desk-top study. The layouts and the architectural building lines were quite fuzzy, for want of a better term," she said.
"The quality of the drawings was very poor. Trying to determine the lines that separated the lobby, the firefighting stairs, layouts of flats, etc… was quite difficult."
Inquiry counsel Millett produced an Exova timesheet that suggested Cooney had spent just 15 hours working on the existing FSR.
"I may have spent more time on it than that, but that's what I've booked down on it," she said – adding that spending such an amount of time on a report was "not unusual".
The inquiry heard that Exova had proposed a fee of £2,865 exclusive of VAT for the existing FSR.
Asked whether she felt in any way constrained by a budget of just under £3,000, Cooney replied: "Not particularly, no."
The inquiry has 18 months to run but was suspended after the conclusion of Cooney's evidence because of new Covid-19 restrictions.