Practice added second set of stairs to 421-home scheme following London Fire Brigade safety concerns
Morris & Co has secured planning permission for a 52-storey residential tower in east London after reworking its designs to include a second staircase following safety concerns from the London Fire Brigade.
The practice's 421-home proposals, drawn up for Anglo-Irish developer Ballymore, were pulled from a Tower Hamlets strategic development committee agenda in January when the strength of LFB's feelings about the lack of a second means of fire escape became apparent.
Tower Hamlets planning officers had already recommended the scheme – earmarked for a 0.44ha site on Cuba Street, on the Isle of Dogs – for approval. Current regulations allow residential tower blocks to be built with just a single means of escape, where the design allows for a "stay-put" strategy in the event of a fire.
Many other countries require at least two fire escapes for tall buildings, and critics say such designs ignore the lessons from the Grenfell Tower fire, where "stay put" advice left residents who remained on that building's upper floors trapped, costing them their lives.
Morris & Co's reworking of the Cuba Street scheme has taken out one of the building's three lifts to provide an additional staircase that can be accessed by all floors. A planning statement submitted to Tower Hamlets in support of the change said the size of the three remaining lifts proposed would be increased and that they would operate more quickly to meet waiting-time requirements. The document said that other than the new staircase, the proposals were unchanged from January.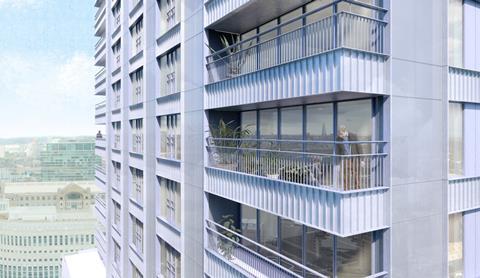 LFB's original comments argued that the proposals did "not provide suitable and convenient means of escape and associated evacuation strategy for all building users", as required by the 2021 London Plan.
The brigade added that it would have expected the developer of a building with a single escape route to have its own engineers provide a full review to show the scheme's resilience, but this did not appear to have been carried out.
An update to last night's strategic development committee meeting included an LFB response expressing appreciation for Morris & Co and Ballymore's design changes. It added: "We also welcome additional meetings and communication with the Ballymore, the design team and THBC to understand the further development of the design prior to the official building regulations consultation."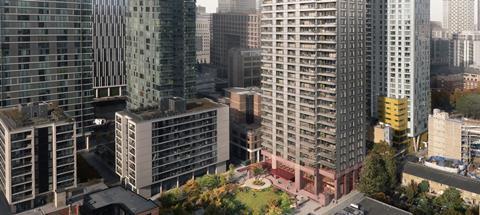 Recommending the scheme for approval, Tower Hamlets planning officers said the tower would be well proportioned and "of appropriately high architectural quality".
Committee members were told that 100 of the new flats would be "affordable", equating to 30.15% of the development, measured by habitable room. They went on to back the scheme by six votes to two.
The plans will also deliver a new 1,630sq m park at the site, which is south-east of Canary Wharf.
Other firms working on the scheme include Pick Everard as adviser to the principal designer, WSP as structural engineer and fire consultant and Rolfe Judd as planning consultant.