Planning inspector overrules rejection of 15-storey student-housing proposals
Morris & Company has won planning permission at appeal for proposals to demolish a six-storey 1960s office building near London's Euston Station and replace it with a 15-storey student-housing development.
The scheme, drawn up for developer Euston One Ltd, also involves the refurbishment of the ground floor level of a neighbouring residential block on William Road to provide affordable workspace. Both buildings were previously used as offices by private-hire taxi firm Addison Lee.
Camden Council rejected Morris & Co's plans for 239 student rooms in October 2021, citing the quality of the proposed accommodation and the absence of a legal agreement among its reasons for refusal.
The practice subsequently redesigned the scheme to include a second staircase, however the lack of a second staircase for the building was not one of Camden's grounds for refusal.
Issuing her decision at the end of last month, planning inspector Christina Downes noted that Greater London Authority planning officers had said the proposals would offer a "very high standard" of accommodation and that she agreed with the verdict.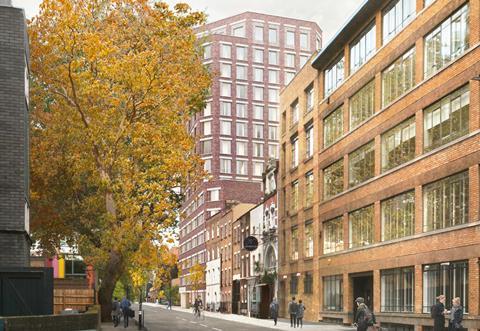 Morris & Co's plans feature studio units and "twodio" units, rather than cluster flats. Downes said she had visited the Chapter Old Street student development, which features similar accommodation, as part of her inquiry work and that the visit had "reinforced" her conclusion.
Downes acknowledged that the proposals did not comply with Camden Council's own planning guidance that requires the inclusion of cluster flats. However she said cluster flats were promoted on the grounds of affordability rather than quality.
The inspector said the scheme would see the delivery of 1,255sq m of new affordable workspace, but that there would be an overall loss of 2,438sq m of employment space from the existing building.
She said the building earmarked for demolition was in a very poor condition and its height made redevelopment seem "very unlikely".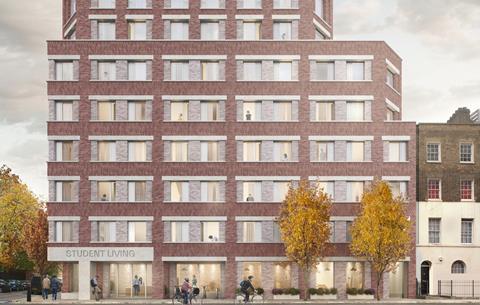 Downes praised the quality of Morris & Co's design and said the development would not negatively impact the character and appearance of the local area.
"This is a highly accessible brownfield site within a central London location," she said. "The proposal, unlike what is there at present, would optimise its use with a building of strong architectural expression, high quality and attractive design.
"It would integrate successfully with its surroundings and provide a strong visual statement on this corner site. It would also entail the removal of an existing building, which makes no contribution to the character or quality of the street scene."