Scheme of 52 storeys withdrawn from planning after fears raised over single staircase design
Ballymore has pulled an application for a 52-storey Morris & Co tower at the last minute after the fire brigade raised concerns about the lack of a second means of escape from the building.
The Anglo-Irish developer confirmed it had withdrawn the application for the Cuba Street scheme after Tower Hamlets was sent comments on its application yesterday, just before it was due to go to committee.
The east London council cancelled the expected planning and development committee meeting in light of Ballymore's decision to withdraw the scheme.
Prior to receiving the response from the London Fire Brigade, officers at Tower Hamlets had recommended councillors approve the scheme, which was proposed to have just a single flight of stairs by which residents could evacuate in an emergency.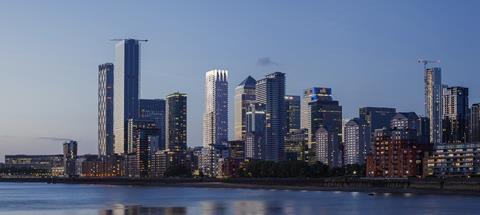 Current regulations allow residential tower blocks to be built with just a single means of escape, where the design allows a "stay-put" strategy in the event of a fire, with the block resisting spread of fire between apartments.
However, many other countries require at least two fire escapes for tall buildings, and critics say such designs ignore the lessons from the Grenfell Tower fire, where "stay put" advice led residents to remain in the burning building and await rescue.
Fire engineer Arnold Tarling told the Guardian such designs were "utter madness".
An officers' report to the committee on the scheme said Ballymore had this month submitted a Fire Strategy Report to accompany the application, which consisted of a "high-level review of fire safety requirements for the proposed development based on relevant British Standards and [which] addresses means of escape, fire safety systems, internal fire spread, external fire spread and access and facilities for the fire service".
It added that all the designs were "considered to be acceptable". However, at the point the report was written, no response to the application had been received from the London Fire Brigade.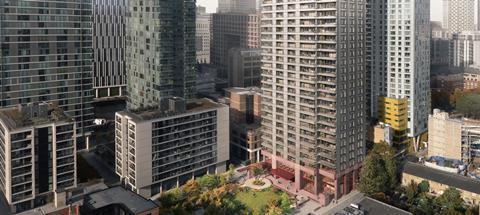 An LFB spokesperson said the design "does not provide suitable and convenient means of escape and associated evacuation strategy for all building users".
They added: "In buildings with a single escape route, we would expect the developer to have their own fire engineers provide a full review to show the resilience in the event of a fire and this does not appear to have been carried out.
"While we are not a statutory consultee on such planning applications, we would always look to provide a response around the fire strategy in high-rise buildings, as we have in this case."
The RIBA has long called for sprinklers and an alternative means of escape to be a requirement for all high-rise and high-risk buildings. The Cuba Street proposals did include sprinklers.
A Tower Hamlets council spokesperson said yesterday: "Comments from the London Fire Brigade were received today, which raise a number of issues that will need to be addressed.
"The applicant has asked for more time to respond and therefore the item was not considered at last night's meeting, and will only be brought to committee once these issues are resolved."
A Ballymore spokesperson said: "As part of the planning application for our Cuba Street development, Ballymore received comments from the London Fire Brigade on the day it was going to committee, requesting clarification around aspects of the application.
"We are more than happy to provide that clarification and will continue to work closely with the LFB and local authority towards presenting the scheme for planning approval in due course.
"Like all Ballymore developments, the Cuba Street scheme will be built in full accordance with approved and emerging guidance and British Standards."
Morris & Company, which is listed as principal and lead designer, declined to comment. Others working on the scheme include Pick Everard as adviser to the principal designer, WSP as structural engineer and fire consultant and Rolfe Judd as planning consultant.