Open letter from former construction minister makes case for sites to stay open – as some architects call for their closure
New business secretary Kwasi Kwarteng has written an open letter to the construction industry telling it it is safe to carry on working and spelling out why sites are remaining open.
His letter comes as concerns about working through this latest lockdown grew in the week since prime minister Boris Johnson announced the restrictions – which include the closure of schools.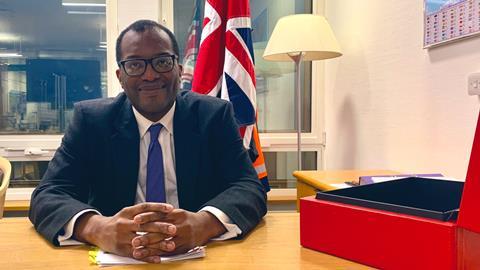 Construction was again spared the stay-at-home message but a debate is raging among architects and those in the wider industry about safety, critical worker status and the challenge of working while homeschooling children.
The Architects Climate Action Network (ACAN) and architects' union the UVW-SAW have called for non-essential sites to be closed in an effort to reduce the spread of the disease.
ACAN tweeted its support for the #shutthesites campaign, adding: "It's simply not right that construction workers, and other peripheral jobs, continue going to work when coronavirus is so dangerous." It echoed a call by architecture union UVW-SAW which claimed there was a clear case for shutting sites to protect both the economy and health of workers.
But on his first full day in office Kwarteng, who was previously construction minister for just a month before his promotion last Friday, replacing the outgoing Alok Sharma, said the industry should carry on. "It is vital that construction continues through these unsettling times and I want to reassure you that the government values the crucial contribution your sector is making," he said.
"Whether delivering on large or small construction sites, and in people's homes across the country, in builders' merchants, designing and project managing schemes or producing construction and mineral products, you are making a major contribution to the economic recovery following covid-19," he added.
He said workers getting to and from sites would still be allowed to travel or stay in accommodation.
Kwarteng's letter is intended to shore up support for keeping construction open and underlines the balancing act government is facing between protecting the NHS and not sending the economy into freefall. Yesterday, in an update on the state of the nation's finances, chancellor Rishi Sunak warned people should expect the economy "to get worse before it gets better".
Last spring's lockdown, which saw thousands of sites shut for several weeks, saw GDP slump by a record 20% in April alone while in the three months to June, output for construction nosedived by 35%.
They reopened after practices deemed to make them covid-safe were implemented, including social distancing, temperature tests and masks.
A number of contractors said keeping sites open this time might not be as straightforward. Infection rates are higher and the new variants are more transmissible, leading some to suggest distancing should be toughened to 3m which would make sites less viable.
Parents are also struggling to help children keep up with schools' newly beefed-up online teaching while fulfilling their own work commitments.
One small contractor told Building Design's sister magazine Building that one of its senior team was forced to take his five-year-old daughter to his site office last week. "His wife works in a hospital. He had to drop something off at the site so his daughter had to come along as well."
Ross Malone, managing director of London contractor Orchestrate Ltd, said: "We've had lots of children coming to work days. Guys on site have their little apprentices in the vans… Clients are suffering with the same issues so are either zooming in to meetings or bringing along their brood."
ACAN and SAW tweets
ACAN support #shutthesites, it's simply not right that construction workers, and other peripheral jobs, continue going to work when coronavirus is so dangerous. https://t.co/DcVL74kuBo

— Architects Climate Action Network (@ArchitectsCAN) January 11, 2021
RIBA president Alan Jones has called for architects and other construction workers to be given critical worker status where it is necessary for sites to stay open so that they can send their children to school. Inconsistencies in definitions of key workers were highlighted by Fiona Scott, director of architect Gort Scott, who pointed out that some white-collar workers who could – albeit with difficulty – homeschool their children were taking advantage of the rules while others were desperately trying to do the right thing.
According to a survey published today by recruitment firm Hays, almost one in four construction workers feel that caring for children during the first lockdown limited their career progression, with the figure rising to 35% for women.
Last week Building Design highlighted concerns among staff at On Architecture who were told during the current and November lockdowns that they must work in the office or face potential disciplinary action. The practice later relented.
According to the latest figures there were 46,169 new cases of coronavirus in the UK on Monday. While down from last Friday's high of 68,053 positive tests this is still significantly higher than during the previous peak.
England's chief medical officer took to the airwaves to warn the next few weeks will be the worst of the entire pandemic.
Prof Chris Whitty said: "In London for example one in 30 people currently have this coronavirus, across the country as a whole, it's one in 50. So this is a serious problem."
One developer behind several high-profile schemes across London said: "It's being managed well so far but it is now more a case of me walking onto a site and asking: 'How many covid cases have we got at the moment?' Last spring, you heard about the odd one but it is much more prevalent now. Everyone knows someone who's got it or has had it. It's much higher than it was and has percolated on to every major project in London."