Tax rises expected as chancellor tries to claw back covid costs | Plus: Follow Building Design's rolling live blog from 11.30am
Rishi Sunak will deliver his second full Budget to parliament this afternoon amid mounting pressure to claw back some of the vast funds spent on fighting the covid crisis over the past year.
Just under a year after introducing the furlough scheme, the chancellor is facing the challenge of how to balance the books after the government shelled out a record £270bn on mitigating the impact of the pandemic over the past 12 months.
In a video tweeted by Sunak on Monday, the chancellor warned that "honesty about our situation" would be at the heart of today's Budget in a message which prepared the ground for decisions which could hit firms over the coming years.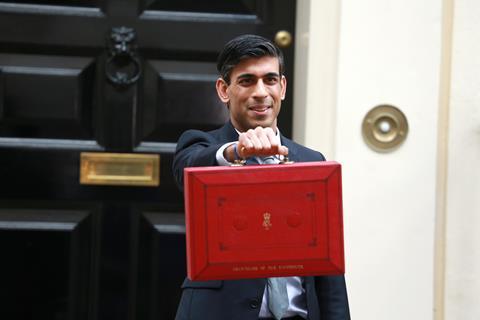 Tax rises are widely expected, with the obstacle of the 2019 Conservative manifesto promise not to raise income tax, national insurance or VAT likely to be offset by a hike in corporation tax from 19% to 23% over the course of this parliament.
A freeze on personal income tax allowance has also been rumoured, while the new IR35 tax rules are also due to be introduced on 6 April despite widespread dismay among construction SMEs.
But last night the government confirmed Sunak will extend the furlough scheme until the end of September, with newspaper reports suggesting the stamp duty holiday will also be extended by three months until the end of June to avoid the tax break's existing 31 March cut-off point from triggering the collapse of thousands of house sales.
Meanwhile, housing specialists will be watching closely for more details on how the government will extend the £3bn Green Homes Grant for energy-efficiency improvements to homes.
The current scheme has been criticised for not going far enough in addressing carbon emissions from the UK's 28 million homes, with the Construction Leadership Council calling for a national retrofit programme costing £525bn over the next 20 years as the solution required to meet the government's net zero targets.
The industry will also be hoping for more government support for construction skills to offset post-Brexit labour shortages which have seen the sector lose over a quarter of its EU workforce over the past year. This has mostly affected the trades but before the UK finally severed ties on New Year's Eve, one in five Arb-registered architects came from Europe.
And larger firms will be scanning the announcements for news of the National Infrastructure Bank, which was announced by Sunak in his autumn Spending Review.
The new bank, which has been created partially to replace the European Investment Bank, has been set up to leverage public money by attracting private finance into infrastructure, potentially bankrolling major new infrastructure projects.
Follow Building Design's live coverage of the Budget from 11.30am on our website.