Architects respond to news that spatial plan for belt connecting Oxford and Cambridge will be published next year
The government has re-committed itself to draw up a spatial framework to oversee a £200bn growth drive in the so-called "OxCam Arc" between Oxford and Cambridge, which could lead to one million new homes.
Last year chancellor Rishi Sunak announced plans for a joint spatial plan for the growth corridor in his March Budget, but there has been little further from the government on the subject since then.
Last month there were reports that work on the spatial plan had been delayed and that the document was not expected to be published until 2024.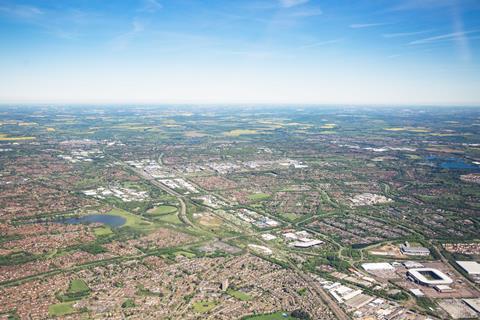 However, the government today published a policy paper about the plan, and housing minister Chris Pincher said the plan will be now be published next year.
The government said modelling suggested that investment in the OxCam Arc could see its economic output double to £200bn per annum by 2050.
The policy paper said the spatial plan will identify opportunity areas in which to locate new homes, as well as setting out policies to enable the creation of new settlements, though it will not make specific site allocations.
However, the government's announcement made no specific mention of the commitment by government and local partners in 2019 to build one million homes in the region by 2050, nearly double existing plans.
There was also no mention of the National Infrastructure Commission's (NIC) 2017 ideas competition that was won by a team of architects imagining the kind of settlements that could be built in the Arc.
Pincher said the plan "will drive investment where it is needed and ensure, as growth happens, we create well-designed, inclusive and vibrant places and communities.
"The OxCam Spatial Framework will allow us to plan positively for growth and we look forward to working with our local partners over the coming months to strengthen our vision and approach to the Arc," he said.
According to the housing ministry, 3.7m people already live in the belt connecting Oxford via Milton Keynes and Bedford to Cambridge, with two million jobs in the region.
Pincher said the government will set up a new Arc Growth Body designed to promote the Arc internationally and "unleash the area's potential to be a global innovation powerhouse."
The announcement was welcomed by Steven Charlton, principal and managing director at Perkins & Will, who said: "The scale of the opportunity here is vast but it requires strategic thinking and ministers are doing precisely the right thing by thinking big, utilising data and working to harvest investment that is queuing up to fund life sciences and build labs.
"Our work to analyse investment and scale-ups across the region shows there are unprecedented opportunities to create jobs and spread out the recovery across cities like Milton Keynes and Norwich."
Architect Tom Holbrook, whose Cambridge-based practice 5th Studio was commissioned by the NIC to do work on the arc idea, was more cautious, saying: "Let's hope that this 'Spatial Framework' is truly spatial in its conception, not just driven by spreadsheets."
Let's hope that this 'Spatial Framework' is truly spatial in its conception, not just driven by spreadsheets. As @5th_Studio's work for the @NatInfraCom illustrated, the #Arc needs diverse, localised responses & bold, integrated thinking on landscape, water and urban transport https://t.co/R5bP8Lgfbr

— Tom Holbrook (@thomholbrook) February 18, 2021
Rachel Dickie, executive director of investment at developer Grosvenor Britain & Ireland, said the new plan must not forget to build trust with local people. She said: "The risk with regional strategies is that they leave individual communities without a voice.
"That needs to be addressed head on in these plans, through a positive approach to engagement that aligns regional ambitions with priorities for individual communities – whether that's new homes, the regeneration of high streets or a reimagining of our cities after covid."