Kay Hughes, Annalie Riches and Sarah Featherstone on winning team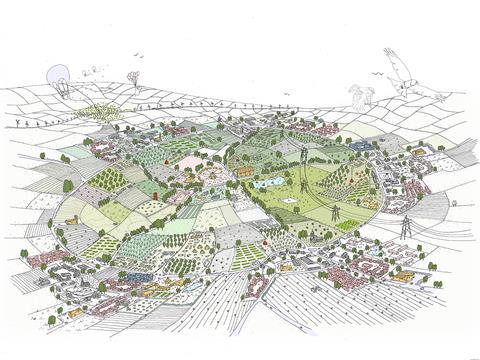 An all-women team featuring architects Kay Hughes, Annalie Riches and Sarah Featherstone has won the National Infrastructure Commission ideas competition for a development corridor linking Oxford and Cambridge.
The VeloCity team, which also includes Jennifer Ross of Tibbalds, Petra Marko of Marko and Placemakers and Judith Sykes of Expedition Engineering, beat Mae, Fletcher Priest Architects and Barton Willmore, along with 54 other entries.
All four finalists, who were interviewed by the jury, receive an honorarium of £10,000.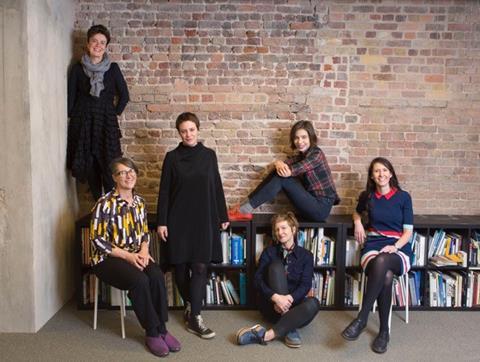 The competition was the first ideas contest run by Malcolm Reading Consultants. It sought inspirational visions for the future of development within the arc between Cambridge, Milton Keynes, Northampton and Oxford, one of the UK's fastest-growing and most productive regions but its success is threatened by housing and transport constraints.
The National Infrastructure Commission (NIC), led by Andrew Adonis with Sadie Morgan of dRMM, saw their vision for a million homes built in the region by 2050 supported by chancellor Philip Hammond.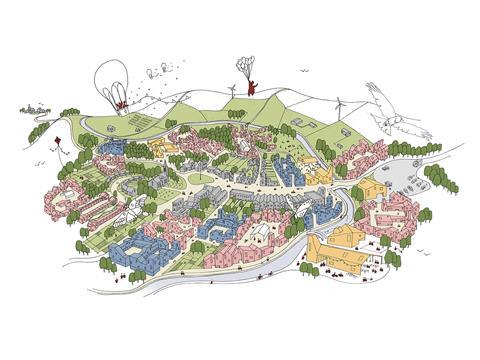 In last month's budget he backed this ambition and announced plans to complete both a new east-west rail link and an Oxford-Cambridge expressway by 2030.
The judges were impressed by VeloCity's low-impact blueprint for new homes while maintaining a human-centred scale and retaining the existing character of the area.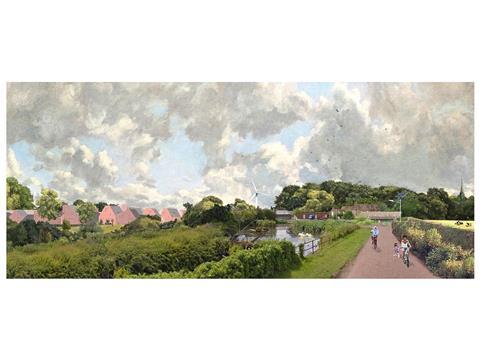 Jury chair and commissioner Bridget Rosewell said they were impressed by the team's commitment to ensuring new settlements would be communities from the "get-go".
"Creating effective new settlements can be challenging," she said. "The team's flair and imagination in addressing this shows how good design can translate into liveable communities."
The proposal, for six villages near a station on the Oxford-Cambridge rail line, could be replicated across the arc to support a substantial number of new homes, she said.
VeloCity envisaged generous common land and shared amenities at the heart of each development providing a focus for encouraging communities to interact.
It proposed integrated public transport connections with expanded pedestrian and cycle routes, limiting the need for car use.
And it wanted small-scale construction and local utility networks designed to reduce the environmental impact of new housing.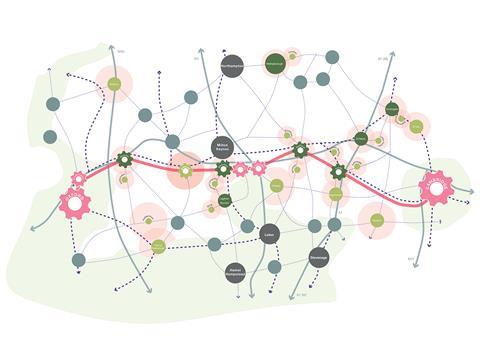 Adonis said the competition focused on some of the essential challenges facing the UK, including how to accelerate the supply of affordable homes without sacrificing the quality of the environment.
"The visions and imagery generated by the competition are tools that will inspire a new approach to achieving sensitive, infrastructure-enabled development over the next half century," he said.
The VeloCity team is: Jennifer Ross from Tibbalds; Sarah Featherstone from Featherstone Young; Kay Hughes of Khaa; Petra Marko of Marko and Placemakers; Annalie Riches of Mikhail Riches; and Judith Sykes of Expedition Engineering.
Ross said they were thrilled to win. "The six of us met taking part in women's cycling events and became friends through a shared interest in designing places that put the pedestrian and cyclist first. We wanted to work together and the competition was the perfect opportunity.
"We spent a lot of time discussing density and place-making and how the implementation of new public transport infrastructure can change the way we plan for and think about building successful communities."
Riches said: "VeloCity is the result of a planning strategy that seeks to ensure the sustainability of the countryside while unlocking the potential for economic growth. We want development to strengthen the identity of village centres – adding housing density that will in turn support local village economies, rather than sprawling along roads as a car-dependent endless suburb. We want to grow infrastructure along existing corridors and support population growth with robust public transport links. Underpinning this all is a new cycling infrastructure – a light-touch network linking towns to each other as well as to transport interchanges.
"The area of the country between Oxford and Cambridge contains some of the country's most picturesque scenery, as well as some of the best opportunities to grow the economy. VeloCity suggests a model that will allow the two to coexist in an achievable, pragmatic and environmentally responsible way."
The finalists
Barton Willmore with Momentum
Fletcher Priest Architects with Bradley Murphy Design and Peter Brett Associates
Mae with Oneworks, Planit, AKT II, Tyrens and Max Fordham
Tibbalds Planning & Urban Design with Mikhail Riches, Featherstone Young, Marko and Placemakers, Expedition Engineering & Khaa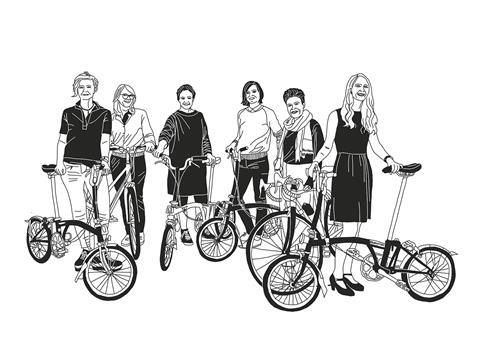 The judges
Bridget Rosewell, co-founder, Volterra Partners and National Infrastructure Commissioner
David Lock, strategic planning adviser, David Lock Associates
Georgia Butina Watson, professor and research director of urban design, Oxford Brookes University
Hilary Chipping, deputy chief executive, South East Midlands Local Enterprise Partnership
Andrew Adonis, chairman, National Infrastructure Commission
Sadie Morgan, founding director, dRMM architects and National Infrastructure Commissioner
Tim Broyd, professor of civil engineering, University College London
Tom Holbrook, director, 5th Studio and professor of architecture, RMIT University