Architects report delays as builders return to EU, while trade body warns supply chains being stretched
Projects are facing delays as contractors struggle to secure the materials they need – and some EU-born builders quit the UK for good.
Trade body the Builders Merchants Federation (BMF) warned building products were being caught up in log jams at ports ahead of Brexit. It said products shipped in from Asia were struggling to get to the UK.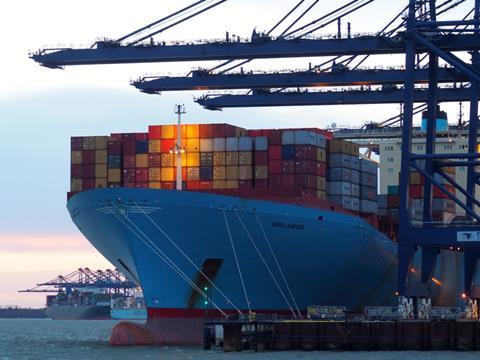 Since September, the country's biggest container port, Felixstowe, has been handling about a third more goods than usual, across all sectors, as firms rush to stock up on items before the conclusion of the Brexit transition period at the end of this month.
John Newcomb, chief executive of the BMF and co-chair of the Construction Leadership Council's Brexit movement of building products and materials group, said concerns had been raised about access to materials including ironmongery, plumbing items, tools and natural stone.
He said: "There appears to be an increasing issue getting these products through ports, with some ships being stopped from landing and sent back to Rotterdam. Rather than taking a maximum of one week to unload, it is taking up to four weeks.
"We've raised this matter with government and asked about the readiness of ports and customs, as we head into Brexit."
Several ports are looking to upgrade their infrastructure in the run-up to Brexit, with contractors on notice for deals to build border control posts.
Meanwhile some architects have reported another problem: that European building workers are leaving the country for good, causing delays to projects on site while work has to be re-tendered.
The director of one small London-based practice told Building Design: "Good small contractors are leaving the country. They're finding it difficult because materials are being slowed down so they can't do things as quickly as they want.
"The foreman on one of our jobs went back to Romania so they're going to dissolve that company and we will have to sign a contract with a new contractor which will delay the job a bit. That kind of thing has happened on a couple of teams we're working with. I think the disruption and uncertainty mean some are deciding they've had their fill of it."
Last month RIBA chief executive Alan Vallance and Arb's acting chair Alan Kershaw warned architects to get ready for Brexit.
Vallance said: "While preparing for Brexit might not seem like a priority, especially without clarity on trade deal arrangements, it's essential that businesses and individuals familiarise themselves with the changes that will affect the way UK architecture operates.
"From registering professional qualifications, to getting to grips with new custom declaration rules – individuals and businesses must take action to ensure they can practice successfully under new conditions."
Trade body Build UK is advising contractors to liaise with their supply chain much earlier than normal for at least the first half of 2021, as it estimates that in the event of a "no deal" Brexit duty and other costs could increase from 2% to 8%.
"The overriding message from all businesses is the need for much earlier engagement across the whole supply chain, along with enhanced forecasting information to anticipate and manage supply and demand issues," said chief executive Suzannah Nichol.
Products imported solely from Europe, such as lifts, facades, cladding and roof tiles are on the body's "watch list" as they are usually made to order and there is little stock held in the UK. Timber has been in short supply since March and a range of timber products continue to be on longer lead times.
Last week the chief executive of leading contractor Mace, Mark Reynolds, warned that the biggest headache set to be caused by Brexit remained getting materials to sites from Europe, adding that contractors might have to freight product through different routes in order to avoid them being clogged up at ports in the south of England.
While there are hopes a deal between the UK and EU will be reached this week both sides say they still have "significant differences".