Ben Flatman looks at some of the ways the profession is making a difference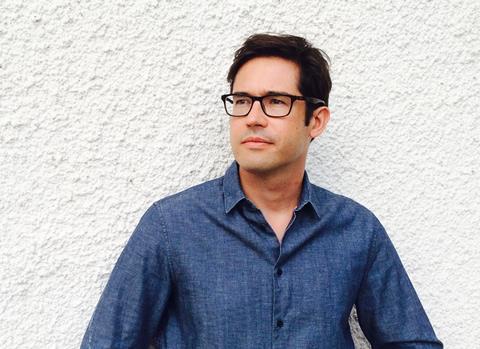 The past decade has seen an explosion in homelessness in the UK to an estimated 320,000 people. At the same time, numbers of rough sleepers have doubled to almost 5,000. Most of us don't need statistics to be made aware of the problem. On a recent visit to Birmingham I found the road tunnel under the Bull Ring shopping centre had become a semi-permanent encampment for the city's poor and destitute. And in December it was reported that a homeless man, Gyula Remes, had died just outside the Houses of Parliament. As MP David Lammy said: "There is something rotten in Westminster when MPs walk past dying homeless people on the way into work."
In August last year the government announced plans to halve the numbers of rough sleepers by 2022, which would simply return the situation to where it was in 2010. More ambitiously, government says it wants to eradicate rough sleeping completely by 2027. Much of this feels like rather too little, too late. Last month the housing minister, James Brokenshire, actually admitted that government policy had itself probably played a part in driving people on to the streets – a rare admission of failure and responsibility from a minister.
Big homeless charities, like Crisis, have made it clear that the long-term solution to homelessness is 100,000 more social housing units a year for the next 15 years.
But what about the immediate needs of those without a permanent place to stay, or even on the streets? Do architects also share responsibility for addressing the particular problem of rough sleeping? It would be a stretch to lay responsibility for the current crisis at the door of architects, but homelessness shames us all. And as supposed leaders and influencers in the built environment sector, we surely have a key role to play in developing solutions.
When I entered "homelessness" on the RIBA website I got just two results. This might not suggest to others that homelessness is much of a priority for architects. To be fair to RIBA and the profession collectively, however, the wider issue of housing is where a lot of architects have focused their attention in recent years. And the UK's dysfunctional housing system is clearly a key cause of the crisis.
Both references on RIBA's website are to Chris Hildrey's recent prize-winning research on how to ensure the homeless maintain access to key services through a proxy address. Hildrey won the President's Medal in December, and his work is a timely reminder of how architects' abilities to think laterally can be applied to a wide range of problems. The proposal reminded me of Cedric Price's oft-quoted advice that the last thing his clients needed was a building. Counter-intuitively, Hildrey identified a short-term solution to a problem caused by lack of housing that is not about building something, but instead providing individuals with virtual addresses. It doesn't pretend to solve the homelessness crisis, but it does help address an urgent immediate need.
Even if we address the root causes of the wider homelessness crisis, there will always be some people who for a variety of reasons find themselves temporarily falling through the various safety nets and forced to sleep rough. It's tempting to see people sleeping in homeless shelters as having had their immediate needs met. But many occupants of night shelters find them deeply disturbing places. Communal sleeping areas can feel threatening and some rough sleepers actively avoid them as they offer little privacy and can be so noisy, that sleep is impossible. This suggests that there are immediate design challenges to be addressed around the ways in which shelters are set up and arranged internally.
This is exactly what Reed Watts set out to address with their competition-winning design for modular sleeping pods. Recently installed at the 999 Club night shelter in Deptford, they allow people in urgent need to get a relatively peaceful night's sleep and retain some dignity and sense of personal space.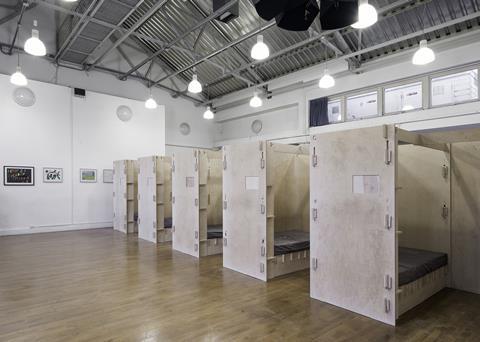 It's perhaps unfair to burden our profession with the moral responsibility of addressing the wider failings of our housing system. Ever since 1979, successive governments have had an ideological aversion to social housing, and recently it seems that government policy has been explicitly designed to punish those living in the extremities of poverty and personal crisis. By contrast, many architects have long been highly critical of how this country builds (or rather fails to build) housing for all our collective needs.
It's hard to believe today, but 40 years ago around half of all architects worked in the public sector. Many of them were engaged in designing social housing, helping transform lives and lifting people out of poverty. 1980 saw the completion of 70,000 council homes in the UK. After that year, the first Thatcher government essentially banned any new construction and started selling them off, with most capital receipts going straight to central government. As investment in social housing plummeted, so government expenditure on housing benefit (usually paid to private landlords) skyrocketed.
Fortunately, council housing is now back on the agenda, with Whitehall having finally loosened the draconian restrictions that prevented local authorities providing housing for their communities. For the first time in a generation British architects are getting the opportunity to work on properly funded, high-quality council housing that addresses an urgent need, and delivers good design.
Not all architects can or should be working on social housing and humanitarian work. And frankly, in a country as wealthy as 21st-century Britain, homelessness and rough sleeping should have been eradicated long ago, as they essentially have been already in countries like Finland. But until that happens (and the UK has decades of under-investment and failed government policies to overcome) there's an important role for architects in filling in the gaps.