Practice worked with landscape architect Morphis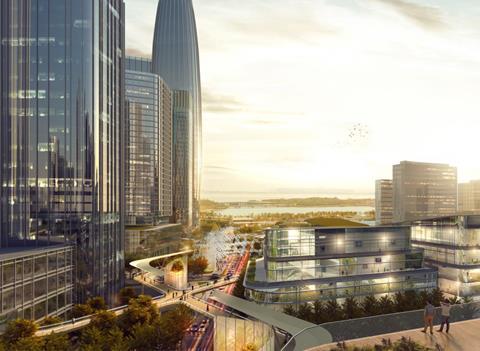 Wilkinson Eyre has won a major international competition for 6.3ha urban design and masterplan project in the bay area of Shenzhen in China.
Working with landscape architect Morphis, the practice came up with the winning a plan for the Shenzhen Bay Avenue East Extension, which will create a 1km multi-layered pedestrian connection between the commercial district of the city and the bay.
Commissioned by the Shenzhen government, it will be a new city destination promoting healthy and sustainable living.
Matthew Potter, director of Wilkinson Eyre Hong Kong, said: "Wilkinson Eyre and Morphis have collaborated to create a proposal that holistically blends architecture, urban design and landscape design. Our concept will deliver a strong linear public space with the flexibility to allow the city to breathe, develop, grow and adapt."
The winning design takes the concept of "city - culture - bay" and includes several interconnected elevated walkways linked by escalators and stairs to the street and basement level of the civic realm.
The route passes through three distinct zones, from the central business district through to a new cultural quarter and on to a landscaped park on the bay.
The scheme features retail and key urban spaces include a transport interchange with a bus station and links to two subway stations, a sunken plaza and the Platform Park, designed to be a calm space in the city.