Iceland project will be heated by geothermal energy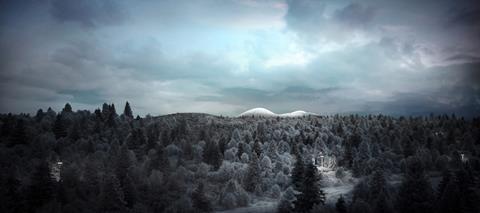 Wilkinson Eyre has won planning permission for a major biodome complex in Iceland's Reykjavik region, in partnership with a local design team.
The practice said its proposals for the Aldin Biodomes included a main nature dome, a tropical dome that would showcase exotic plants from other environments and a "farm lab" that would serve as an educational environment on local food production.
Wilkinson Eyre said the development would be an "elegant addition" to the Reykjavik skyline and would offer dramatic views to the Elliðaárdalur Valley.
"The project's north-west orientation will guarantee views of Iceland's midnight sunsets during the long summer days and the Northern Lights during the dark winters," it said.
Wilkinson Eyre added that the project had been designed to be an exemplar in sustainability and that the domes would be heated using the region's abundant geothermal energy.
The practice said it had been appointed to the project because of its extensive experience in comparable projects, including the Davies Alpine House at Kew's Royal Botanic Gardens and the National Centre for Horticultural Science and Learning in Surrey.