Planners told 400,000-plant façade will not be fire hazard if maintained properly
Sheppard Robson has won planning permission for a 12-storey hotel which is being dubbed London's "greenest building" to date because of its 400,000-plant living façade.
Members of the City of London's planning and transportation committee unanimously approved the 382-bedroom proposals, earmarked for the site of disused Citicape House office building which fronts Holborn Viaduct.
They were told the building's 3,700sq m green wall was expected to be the largest in Europe and that developer Dominvs Group claimed it would generate seven tonnes of oxygen a year and extract nine tonnes of carbon dioxide from the air over the same period.
Last month Building Design reported that the government's ban on using combustible materials in the external walls of high-rise buildings could effectively block the incorporation of photovoltaic panels and green walls into schemes.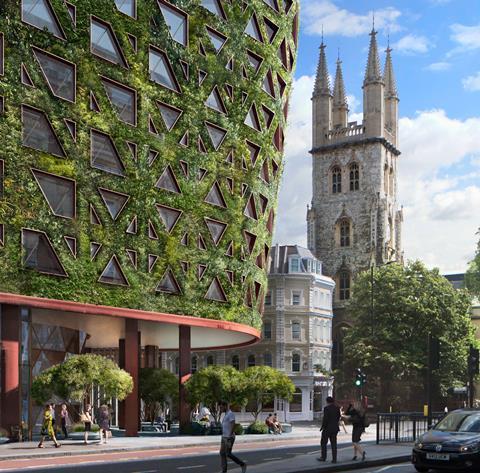 However councillors were told the Sheppard Robson hotel plans, which also include 3,741sq m of office space and a landscaped public roof terrace, were not considered to be a fire hazard if the living wall was properly maintained.
"The fire safety aspects of the green wall have been assessed by the City's district surveyor and found to be acceptable subject to maintenance conditions and obligations," a report to Tuesday's meeting said.
"The proposal comprises a noncombustible green wall construction with a built-in irrigation system which is connected to a fire alarm system so it can act as a drencher system in the event of a fire. The district surveyor will be consulted on the maintenance plan required under conditions."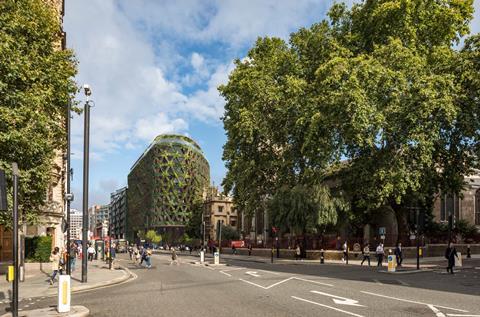 Planning officers said in a report to the meeting that the parochial church council of the neighbouring grade I-listed Holy Sepulchre Church had objected to the proposals, citing concerns about overlooking from the hotel and the green wall's visual impact. A verbal update noted the objection had been withdrawn.
Officers' report to councillors accepted that green living walls would not be appropriate in every part of the City, but insisted the Sheppard Robson proposals were an "appropriate architectural response" to the development site.
"In particular, the green living walled building will create an appropriate backdrop and foreground to Holy Sepulchre Church alongside the green landscaped churchyard and mature canopy of the London plane trees," they said.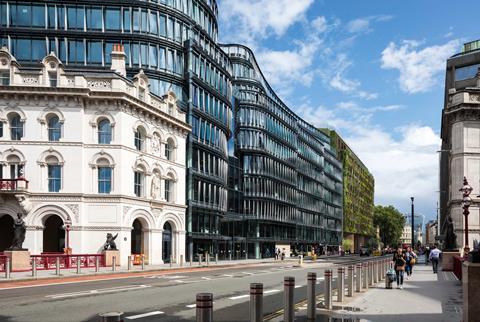 "The expansive green façade will contribute positively in softening the currently somewhat hard townscape of Holborn Viaduct.
"Holborn Viaduct consists of a diverse and eclectic architectural ensemble with robust stone, brick, metal framed and glazed facades.
"Within this townscape setting there is considered to be an opportunity for a radical green walled architectural statement."
After the approval, planning and transportation committee chair Alastair Moss said the City welcomed "radical and pioneering ideas" as it looked to create cleaner and greener spaces for residents, workers and visitors.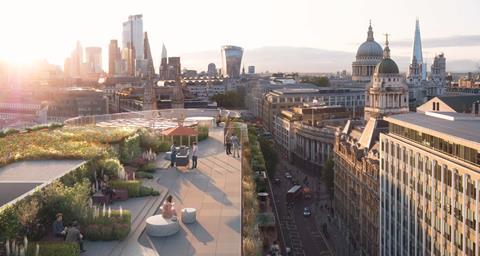 "This development's green wall of around 400,000 plants offers many environmental benefits such as reducing pollution, absorbing sound and reducing flood risk," he said.
"The City Corporation has a real interest in urban greening, and we hope this building will prove to be a fantastic example of what is possible for future developments."
The City said it based its argument that the hotel would be London's greenest building on the basis that the development had an urban greening factor calculation of 1.37 against a draft London Plan target of 0.3 for commercial developments.
Landscape specialist Phil Allen Design worked with Sheppard Robson on the proposals.
An earlier consent for a hotel almost as tall designed by Avery Associates lapsed last summer.