Practice is a founding signatory of environmental movement Architects Declare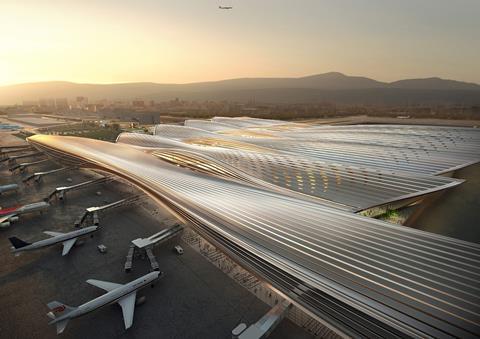 Rogers Stirk Harbour & Partners has won a design competition for terminal 4 at Bao'an International Airport in Shenzhen, China.
The practice is a founding signatory of Architects Declare, a coalition of practices that have committed themselves to addressing the climate and biodiversity crises.
In the last few months signatories have found themselves under fire for accepting airport commissions, with Norman Foster and Patrik Schumacher withdrawing their firms as a result of the controversy. Others including Grimshaw have decided to remain and have defended their work on airports.
RSHP's Bao-an project – which it is working on in partnership with China Northeast Architectural Design & Research Institute in Shenzhen (CNADRI), Aecom and Railway 2 – will be a 400,000sq m terminal building with 60 new stands.
As part of an "airport city" in Shenzhen it will provide connections to other transport infrastructure and have capacity for 31 million passengers a year, 24 million of them international.
Terminal 4 is designed around a 10,000sq m central garden space connected to the other parts of the airport via landscaped pedestrian routes which senior partner Ivan Harbour said placed "passengers' wellbeing and pleasure" at the heart of the scheme.
RSHP, which won the Stirling Prize in 2006 for terminal 4 at Madrid's Barajas Airport, is also currently designing Terminal 3 at Taoyuan Airport in Taiwan and the east wing at Geneva Airport in Switzerland, which it described as its first energy-positive building.
It said specific environmental design strategies at Bao'an included the building's compact form, low water consumption and rainwater harvesting, displacement ventilation and use of vegetation, as well as a "significant proportion" of off-site prefabrication.
In a statement the architect said: "These strategies as well as an efficient plan, equipment layout and the promotion of integrated public transport connections will all serve to minimise the building's energy consumption in use."
Ben Warner, managing director of RSHP Asia which opened in Shanghai 10 years ago, although the firm has worked in China for 30, said: "Our design for the new terminal supports Shenzhen's goal for being a centre for new technologies as well as its aspirations to be the world's greenest city."
He said the win was "testament to the successful and collaborative teamwork we enjoy with our partners here".
His colleague Simon Smithson, a partner at RSHP, said: "I am always impressed by how architecturally engaged our clients in China are with the whole design process. I like to think that our success is because we are great listeners and that our projects not only provide our clients with what they need but do so in surprising and exciting ways."