Initial proposals for radical makeover drawn up by Publica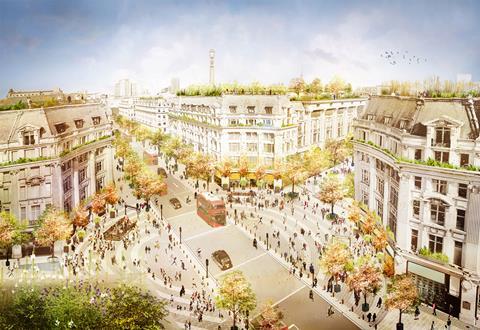 The RIBA has been asked to run an architectural competition to design the pedestrianisation of Oxford Circus.
The high-profile contest will launch later this summer after decades of wrangling over the iconic junction in London's West End.
Publica has drawn up the initial proposals for Westminster council which have been released today.
They envisage the area around Oxford Circus being transformed into two pedestrian piazzas in an effort to tackle chronic congestion, air pollution and noise can to make the heart of the West End a more attractive destination.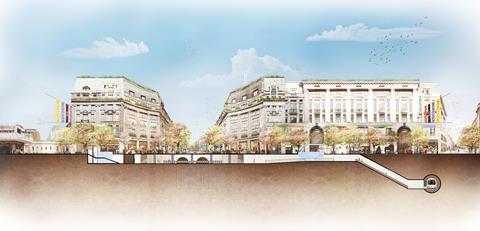 As part of a £235m package, Publica has also been working on other sections of Oxford Street, including around the new Bond Street station and Marble Arch where MVRDV is to create a 25 metre tall artificial mountain.
Oxford Circus, which attracted international publicity when pedestrians were given the right to cross diagonally, is often dangerously overcrowded. Westminster council said Crossrail would bring a further 60m pedestrians a year, with 70% of them arriving by Tube.
Westminster council leader, Rachael Robathan, said: "There is an urgent need to tackle issues with pedestrian congestion and safety, poor air quality and noise.
"The serious congestion of Oxford Circus, of people and of traffic, is unsustainable and demands action.
"In the aftermath of the pandemic, and with the arrival of the Elizabeth line, there is an overwhelming need and a compelling opportunity to build back better; a business-as-usual approach will no longer work.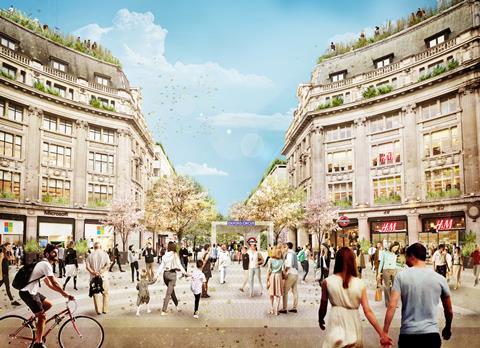 Section through Oxford Street showing two new Piazzas either end of Oxford Circus with improved access and new entrances from the piazzas directly into the underground station
"We hope the creation of these pedestrian-only piazzas at Oxford Circus will not only improve safety, security and accessibility but create an iconic destination at the heart of London."
She said that by prioritising people over vehicles, the changes aimed to improve air quality. Works on Oxford Circus would reduce vehicle traffic and improve efficiency of bus journeys across the area, she said. The scheme is linked with Westminster council's 'Greenways' project, which is designed to improve the experience of cyclists across the borough.
The council has pledged £150m to improving the Oxford Street area.
The first phase of work – two car-free piazzas either side of Oxford Circus – is due to complete this year, while phase two, "major improvements to the public realm", will start in spring 2022. Traffic will be allowed along Regent Street, north and south of Oxford Circus.
The competition will seek proposals for "world-class designs" and "value for money".