Scheme to include 25m high artificial mountain designed by MVRDV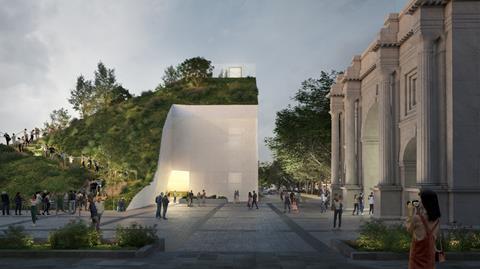 More details have been announced of the £235m reinvention of London's Oxford Street which will see a 25m high artificial mountain next to Marble Arch.
Westminster council has launched a new framework for the scheme which aims to turn Europe's busiest shopping street into the "greenest, smartest, most sustainable district of its kind anywhere in the world".
The council said that spades would be "in the ground within weeks" at several elements of the long-awaited project, including "interim" improvements to the street to provide extra pedestrian space, pop-up parks, new lighting, landscaping, greening projects and cultural space.
It also claimed that work would soon start on a 25m artificial mountain at the Marble Arch end of the street called Marble Arch Hill - although it is yet to gain planning approval.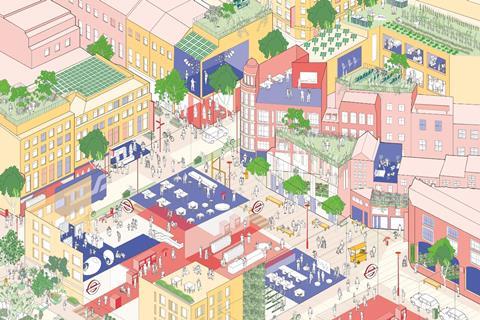 The temporary structure, which has been designed by Rotterdam-based practice MVRDV, will be covered in greenery and trees and include a viewing platform. The practice said the materials used to build the structure will be recycled after the structure is dismantled.
Urban design consultancy Publica, which was appointed as the scheme's 'design guardian' last year, will oversee the project, which has already been allocated £150m in funding by the council.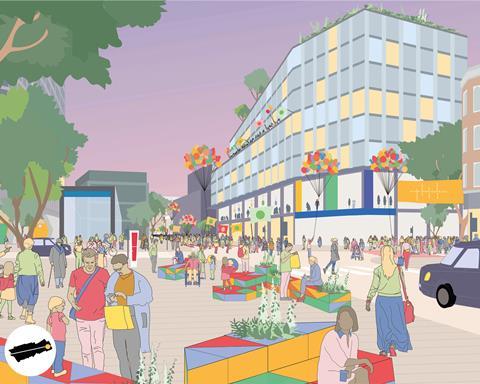 Publica founding director Lucy Musgrave said the launch of the framework "marks an important next step for reimagining the district and delivering on the city council's bold civic leadership".
Musgrave added that the "hugely ambitious and exciting" framework will "provide a global showcase of urban change and will work to better serve its community and businesses".
In 2019, Publica also published a masterplan for the Thames titled The Case for a River Thames Cultural Vision, and since 2010 has published a series of urban design reports for the transformation of Hanover Square ahead of the opening of the nearby Bond Street Crossrail station.