Proposals would deliver 360 new flats and houses on site of a former shoe-machinery factory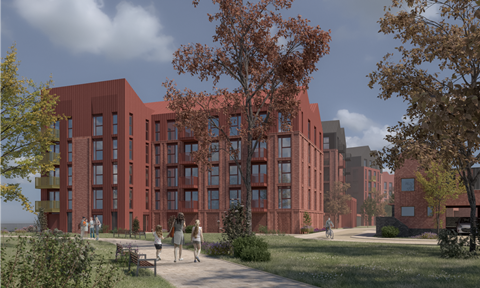 Architecture and design practice RG&P has worked up plans for 360 new homes on a canalside site in Leicester that was once occupied by the world's largest manufacturer of footwear machines.
The scheme at Charles Bennion Walk, around one mile north of the city centre, was created for Trafalgar Global and comprises seven apartment blocks of up to five storeys and 43 houses.
It forms part of a wider regeneration plan first envisaged around 20 years ago that includes schemes at Wolsey Island and Abbey Park Road, which RG&P also designed.
Practice design director Ben Walton said RG&P's approach for the former British United Shoe Machinery site had been shaped by its industrial history, proximity to local landmarks – including the National Space Centre, and the traditional architectural language of buildings along the Grand Union Canal.
"Our design narrative plays on the waterside location and Leicester's rich heritage in garment and shoe machinery production," he said.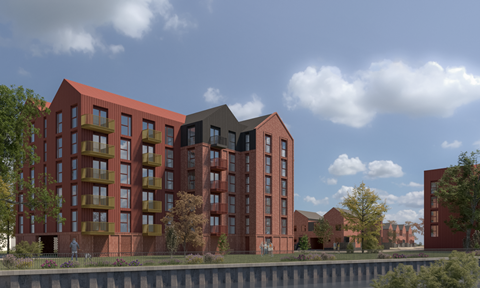 "This is interpreted as pleats of fabric, folds of leather or ripples along the canal. In the façade of the new buildings, materials and textures were deliberately chosen to be indicative of those found on the warehouses of the time, and therefore continue telling the story of shoemaking."
Walton said that as part of the design, brick and metal were draped over each other to create distinct layers, mirroring the traditional assembly process of a leather brogue, while sawtooth roofs echoed the industrial buildings that once stood along the canalside.
He added: "The site's wider placemaking has sought to maximise views to local landmarks through the shaping and arrangement of buildings.
"The landscape moves from a formal urban edge through a central open space into a natural, biodiverse environment adjacent to the canal."