Potential for 495 new homes outweighs harm to setting of new town's current tallest building
A planning inspector has given her backing to Makower Architects' plans for 495 new homes in Basildon town centre, the first 265 of which will be be in towers of 23 and 18 storeys.
The consent, delivered by inspector Roisin Barrett, covers a site at Town Square that was formerly occupied by a branch of Marks & Spencer. It also covers outline proposals for a further 230 homes on a second Town Square plot, subject to detailed approval.
Makower's indicative proposals for the second phase would deliver four more blocks, the highest of which would be 19 storeys.
The practice lodged its proposals – which also include new retail space – in late 2020. Developer Basildon Estates launched its challenge after local authority Basildon council failed to determine the application for the proposals in line with government timescales.
Barrett's decision was based on evidence heard at a planning inquiry in January.
Her report acknowledged that the proposals would harm the setting of 14-storey Brooke House, built in the early 1960s to designs by Anthony B Davies, but said the impact on the grade II-listed building would be "less than substantial".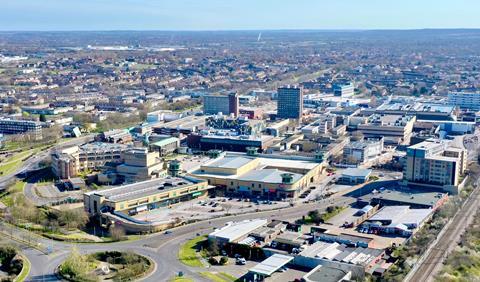 Barrett described the design of the Brutalist block as"remarkable", but she added that it was an addition to the original masterplan for the post-war development of Basildon as a new town and said she had been unable to find evidence that it was ever intended to be the town's sole tower.
Her decision report also noted that a 492-home build-to-rent scheme designed by SWAP Architects and earmarked for Market Square in Basildon would be taller than Brooke House. The scheme for Orwell Real Estate was approved by the authority in February 2021 and subsequently went to appeal, where the decision was upheld.
Barrett added that Basildon was currently unable to demonstrate a five-year housing land supply, and that the Makower plans would contribute to meeting local demand, despite a lack of "affordable" housing.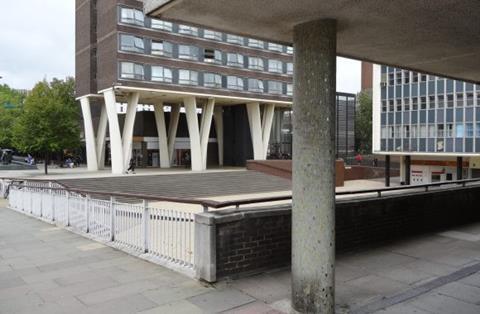 She concluded that the public benefits of Makower's plans outweighed any harm to Brooke House.
Andrew Baggott, leader of Conservative-run Basildon council said the authority was "naturally very disappointed" with Barrett's decision, which he described as at odds with "the public's aspirations" for the town centre.
"The local community have been absolutely clear that they do not want these kinds of developments, towering in the sky at 20-plus storeys," he said.
"They do not accord with the public's aspirations and they do not accord with my administration's aspirations either.
"The residents elected us to power, and ejected the Labour-led alliance that voted through these monstrosities, and we remain committed to honouring their views."