Head of technical operations denies allowing use of Kingspan to avoid 'barrage of claims'
A building control body has denied that it continued to approve the use of a combustible product in high-rise buildings because it wanted to avoid a "barrage of claims" from customers.
Tuesday's hearing of the Grenfell Inquiry was told how the National House Building Council (NHBC) continued to accept the use of Kingspan's K15 insulation in buildings above 18m even after it was alerted to the product's limited fire test.
The UK's largest private building control body had been sanctioning the product on the basis of a 2008 British Board of Agrément (BBA) certificate which gave it a "class 0" rating. The certificate also contained an instruction to contact Kingspan to check compliance.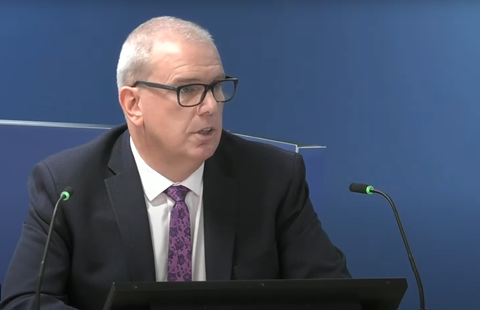 NHBC head of technical operations Steve Evans admitted that the body had not carried out its own investigations and relied solely on the certificate, which the BBA has accepted was misleading.
But, in 2013, a consultancy advised the NHBC that K15 was not compliant in buildings above 18m unless it was used in the specific system tested in 2006.
The inquiry was shown emails between NHBC staff in which they warned that rejecting K15 for use in tall buildings would "cause a major issue with our customers".
The emails added that all high-rise projects would be "forced to use Rockwool" instead, which is a non-combustible alternative to K15.
Despite one NHBC building control officer emailing that the body would not accept K15 on new projects "until we've carried out further investigation", it continued to accept the product so long as Kingspan provided an assurance of its compliance.
Counsel to the inquiry Richard Millett QC asked Evans: "Do you agree that for NHBC to say that they would no longer accept those forms of combustible insulation on buildings above 18m was going to have a massive effect on its own business?"
Evans replied: "It would have a massive effect on our builder customers in terms of then asking them to change their specification, yes."
Millett asked: "Did anyone at the NHBC recognise at the time that it was underwriting… the use of a combustible product in an external wall over 18m on the untested and unexamined say-so of the manufacturer of that very product?"
Evans said: "Not that I'm aware of until we started to look at it in 2013."
Millett suggested that the NHBC's previous approval of K15 in tall buildings gave the organisation a "potentially enormous exposure".
He asked: "Can I suggest a reason why you weren't tougher with them [Kingspan]? And that is because, had you been tougher with them, you would have had… a barrage of claims from myriad building owners?"
Evans replied: "My concern and my focus at the time was not on the historic projects. My concern was with the buildings which were presently going through the design."
Earlier in the hearing, he said that a "knee-jerk reaction" not to accept K15 on any building being designed would have resulted in "a great deal of upheaval for those designers, builders, for the industry as a whole".
The NHBC met Kingspan representatives in January 2014 and the manufacturer promised to carry out additional tests to prove the compliance of the product in a wider range of systems. But the building control body continued to accept the product while waiting for the outcome of the tests.
Millett said: "Did it not occur to you at the time that, really, this was a very soft and lax approach to fire safety and that really, in effect, you had been captured by Kingspan and were being used by them as their poodles?"
Evans replied: "No, I don't believe that is the case at all. We had one test which had demonstrated the material could be used over 18m.
"There was no evidence at this point that Kingspan would not be able to provide further testing to demonstrate that. So it was a case of working with industry as a whole to allow industry to provide that information.
Millett said: "So letting industry take the lead and not the NHBC as, you might think, the guardians of the highest standards of fire safety?"
Evans responded: "I think the work we were doing in working with Kingspan was part of that role in raising standards and preserving fire safety."
The inquiry heard last year that Kingspan had threatened the NHBC with legal action in 2015 after the building control body warned that it intended to start informing high-rise projects that K15 was not compliant. In 2016, the NHBC published guidance confirming that K15 could in fact be used on buildings above 18m.
The inquiry continues.