Modern addition to National Park Authority base 'extrapolates town grain'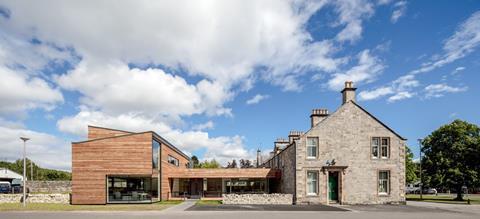 Moxon Architects has completed the extension of the Cairngorms National Park Authority's Grantown-on-Spey headquarters, substantially increasing the floorspace with a modern wing.
The £1m extension uses traditional materials deployed in what its designers said was a "contemporary idiom" that enhanced the innate characteristics of the town.
It features an exposed cross-laminated timber structure that is clad in natural European larch, as well as pleated zinc and frameless glazing.
Moxon said the structure effectively extended the street around a corner, extrapolating the town grain and complementing existing massing.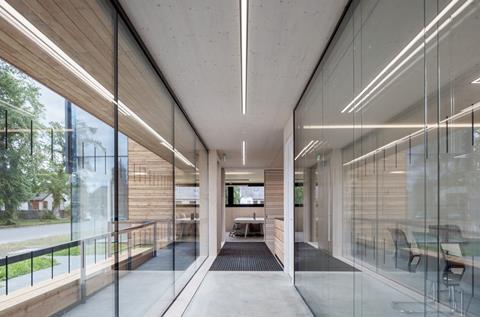 It said the new wing's internal areas could easily be reconfigured, with movable timber-clad screens that roll out to subdivide space for functions ranging from exhibition space to workstations.
Moxon director Ben Addy said the practice's guiding principle had been the creation of an "innovative addition" to the CNPA's historic Highlands headquarters, and one that offered an inviting new entrance for the public and additional office space for staff.
"The building finds a place within the townscape hierarchy suitable for the headquarters of the national park, while the carefully selected materials will weather over time, setting the building into its context," he said.
CNPA chief executive Grant Moir said the authority was "delighted" with the new extension, which had created a "bright and flexible space" for staff and visitors and allowed the organisation to remain in the town.