Housing agency agrees funding package to kickstart work at Brent Cross, Silvertown and Barking Riverside
Homes England has agreed loans worth more than £300m to kickstart three regeneration megaprojects delivering 20,000 homes in the capital.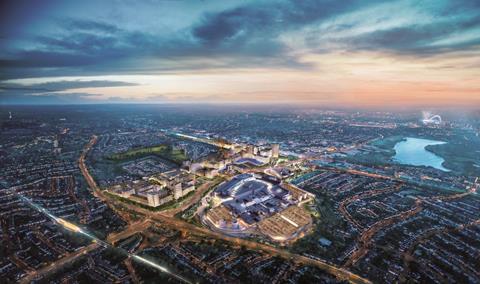 The agency said the funding for the Brent Cross, Silvertown Quays and Barking Riverside regen schemes would ensure that homes were built out much more quickly than would otherwise be the case.
The money comes from Homes England's Home Building Fund, with housing minister Christopher Pincher saying the deal was "a real statement of intent" from the agency. The money comes as the deputy mayor for housing in the capital, Tom Copley, has convened a taskforce to urgently review how to keep construction of homes in London continuing despite the crippling effects of the coronavirus pandemic and lockdown.
Almost half of the £309m in loans is going to the 6,700-home Brent Cross scheme masterplanned by Allies & Morrison (pictured, right), where the developer – a joint venture between Barnet Council and Kings Cross developer Argent – will receive a £148m funding facility. Architects involved in the design include Callison RTKL and Chapman Taylor.
Homes England said the money, which will pay for necessary infrastructure works for the 180-acre Brent Cross South site off the north circular road, will enable the homes to come forward at least four years earlier than would have otherwise been the case. The wider scheme will also see the redevelopment of the existing shopping centre and construction of a new Thameslink station.
The 3,000-home Silvertown Quays scheme will receive a £105m debt facility which the developer, a joint venture between Lendlease and Starwood Capital Group, will use to pay up-front infrastructure costs on enabling construction on the 62-acre site in the Royal Docks.
The scheme has been designed by AHMM and dRMM as well as Pollard Thomas Edwards and Maccreanor Lavington. Masterplanner is Fletcher Priest. Outline planning was granted in 2015. Phase one, which was approved in December, includes refurbishing Millennium Mills, a turn-of-the-20th-century flour mill which has been derelict since the 1980s.
In addition, Homes England will loan the 10,000-home Barking Riverside scheme, a joint venture between the Mayor of London and L&Q, £56m to pay for infrastructure which it said would increase the capacity for homes on the site by up to 2,000 homes. Plans for Barking Riverside, a waterfront site to the East of Docklands, include 65,000 square metres of commercial and leisure space, healthcare facilities, seven new schools, large public open spaces and a new London Overground station. It was masterplanned by Lifschutz Davidson Sandilands and was awarded £500m two years ago.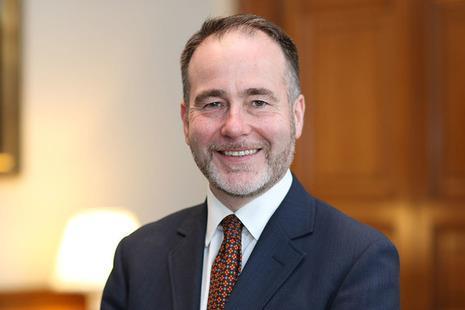 Christopher Pincher (pictured, left) said: "This investment from our £4.5 billion fund is a real statement of intent, delivering up to 20,000 homes, thousands of jobs, and putting in place the schools, retail and leisure spaces needed to form strong, vibrant communities."
Gordon More, chief investments officer at Homes England, said the funding showed the agency remained open for business despite the coronavirus pandemic and committed to helping its partners deliver new homes. He said the money will accelerate delivery of homes in otherwise uncertain times. "By investing in projects on this scale and allowing funding to be recycled into future phases of development, we are able to support significant schemes where commercial lenders may not," he said.