Cash will fund infrastructure projects for Lifschutz Davidson Sandilands masterplan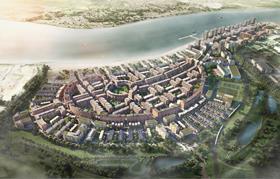 Barking Riverside, one of the UK's largest regeneration projects, is set to receive a funding boost of £500m.
The money, which is for transport links, parkland and other community facilities, alongside 11,000 new homes, comes from the a deal between the mayor of London Sadiq Khan and L&Q, who formed a partnership – Barking Riverside Limited – to deliver Lifschutz Davidson Sandilands' masterplan for the scheme.
The new cash injection means the project has £500m committed to infrastructure investment over a 15-year build programme.
The agreement, which was reached with Barking & Dagenham council and Transport for London, means the project has secured funding for key infrastructure projects including a new London Overground station and land for seven schools.
Half of the new homes at Barking Riveside (pictured) will be "affordable".
Mayor of London Sadiq Khan said: "As well as housing, our investment will create the new transport, education and health services needed to turn this into a thriving new community.
"London will be home to 10 million people in the next decade. I'm working to plan for that growth and to provide genuinely affordable homes for Londoners. That will mean increasing density, building on small sites, and using my powers to deliver more affordable homes."
Infrastructure projects set for Barking Riverside regeneration
A new TfL Overground station connecting to central London in 22 minutes
Land for seven schools including five primaries, one secondary, and one for special educational needs
A new centre with 65,000sq m of commercial, retail and leisure space, including a 2km riverside walkway, an ecology centre and new country park space
A combined health care and leisure facility
A cycling hub
Two local retail and dining hubs
Employment, skills and training that will ensure locals benefit from the opportunities created by the scheme.